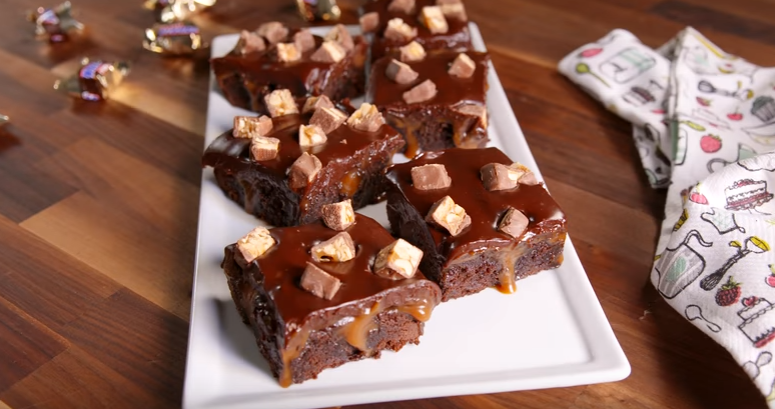 I love to make dessert treat of any kind for my family and friends as I love to see them enjoy what I have made so I wanted to find a few recipes that are easy to make and to follow as they are video tutorial recipes so how about making these Snickers Poke Brownies  , so delicious I think
Video recipe tutorials are so fun to watch and I like them as you get to see what the end produce looks like and it makes we want to go and bake so that is a good thing for my family who love my creations
So I really hope you give this recipe a go too
This great recipe has been brought to you by Delish on YouTube , thanks for sharing it with us
Here below is the recipe and the video tutorial from YouTube
Bold statement: This might actually be better than a candy bar.
DIRECTIONS
1. Preheat oven to 350 degrees F. Grease an 8×8" pan with cooking spray.
2. Prepare brownie batter according to package directions and pour into greased pan. Bake for 25-30 minutes, until a toothpick inserted into the middle comes out clean. Let cool to room temperature.
3. Using the rounded end of a wooden spoon, poke holes into the cooled brownies. Pour caramel sauce on top and smooth out with a spatula. Cover and let chill in fridge for about 30 minutes.
4. Make ganache: Place chocolate chips in a medium, heatproof bowl and set aside. Heat heavy cream in a small saucepan over medium heat. When bubbles begin to break the surface around the edges of the pan, turn off the heat. Pour the hot cream over chocolate chips, whisking constantly until the sauce is smooth.
INGREDIENTS
1 box brownie mix
1 c. caramel sauce
12 oz. semisweet chocolate chips
1 c. heavy cream
1 c. chopped snickers