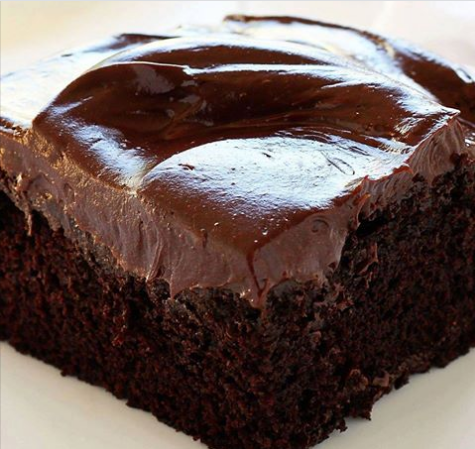 This is the perfect chocolate cake when you're craving for one. It is not overly sweet, but it has the right amount of sugar to the moist cake perfectly complemented with the rich and decadent frosting. You can satisfy your sweet tooth without worrying about too much sugar intake.

It would be best to use high-quality cocoa powder and vanilla extract because these ingredients will definitely make a difference in the taste. Another thing to consider is using the right temperature for the ingredients such as the room temperature for eggs and milk, and the hot water that would help even the baking process.

Ingredients for Chocolate Craving Cake
For the cake batter:

1 cup all-purpose flour
1 cup granulated sugar
1/2 cup unsweetened cocoa powder
3/4 teaspoon baking powder
3/4 teaspoon baking soda
1/2 teaspoon salt
1 large egg, room temperature
1/2 cup whole milk, room temperature
1/4 cup oil
2 teaspoons vanilla extract
1/2 cup hot water

For the cake frosting:

1 cup milk chocolate chips
1/2 cup sour cream
1/2 teaspoon vanilla

How to Make Chocolate Craving Cake

Grease an 8×8 inch pan using baking spray and line with parchment paper. If you are using a glass dish, preheat the oven to 350°F but if it is a metal baking pan, preheat the oven to 325°F.

In an electric mixer, sift and whisk together the dry ingredients: flour, sugar, cocoa powder, baking powder, baking soda and salt. Add the wet ingredients: egg, milk, oil, and vanilla extract. Beat at low speed until thoroughly blended. Increase speed to medium and beat for another 2 minutes. Add the warm water and gently whisk again. The batter

Pour cake batter into the baking pan. Bake for 35 to 40 minutes or until a toothpick inserted comes out clean. Remove from the oven and let it cool for 10 minutes in the pan before transferring on a wire rack to cool completely.

While waiting for the cake to cool down, make the frosting. Melt the chocolate chips in the microwave for 30 second and stir after heating. Repeat the process until they are fully melted. Add sour cream and vanilla and mix well until well combined. Using an offset spatula spread the frosting over the cake.

To see the original recipe that inspired this one, check out the recipe for Chocolate Craving Cake found at I am Baker.