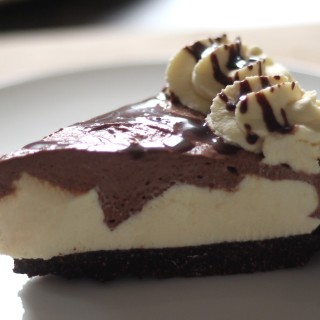 Hershey's Sundae Pie has three layers; the crust, cream cheese filling, and the chocolate mousse. Extra whipping cream on top makes this pie more appetizing.

It has intensified chocolate flavor from Hershey's cocoa powder added to the crust, chocolate mousse powder for the top layer, and a drizzle of chocolate syrup if you are using it.

Ingredients for Hershey's Sundae Pie
For the Crust:
2 cups biscuits crumbs
1/2 cup Hershey's cocoa powder
1/2 cup granulated sugar
2/3 cup butter, melted

For the Second Layer:
2 cups cream
2 teaspoons gelatine powder
2 tablespoons boiling water
8 ounce cream cheese, softened
3/4 cup powdered sugar
1 teaspoon vanilla extract

For the TopLayer:
2 packets of chocolate mousse powder
Hershey's chocolate syrup or melted chocolate (optional)

How to Make Hershey's Sundae Pie

Line a 9-inch springform pan with parchment paper.

Make the crust by combining biscuit crumbs, cocoa powder, sugar, and melted butter in a bowl. Mix until well-combined. Press down the mixture into the prepared pan and chill while making the filling.

Whisk the two cups of cream until fluffy. Set aside

Dissolve gelatine in two tablespoons of boiling water.

In a separate bowl, whisk cream cheese, sugar, vanilla extract. Add dissolved gelatin. Using a spatula, fold the whipped cream into the cream cheese filling.

Add about seven spoonfuls of cream cheese filling into the crust. Refrigerate again while preparing the mousse and put reserve filling into a piping bag.

Prepare the chocolate mousse packets according to package direction. Whip until thick. Layer the mixture into the cream cheese filling. Carefully spread the mousse using a spatula or the back of the spoon.

Chill until the mousse has set. Before serving, pipe the remaining whipped cream cheese filling on the edge and drizzle with chocolate syrup if you want.

To see the original recipe that inspired this one, check out the recipe for Hershey's Sundae Pie found at Recipes by Carina.