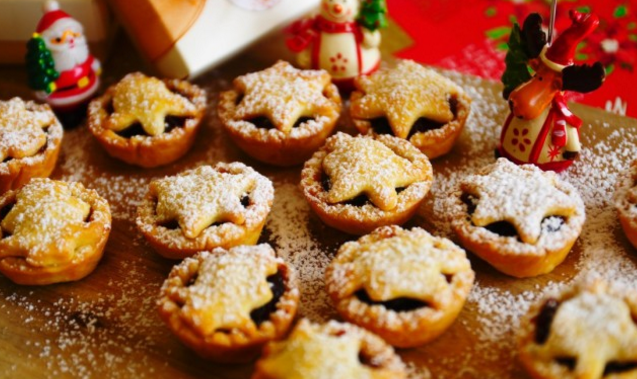 Welcome to 24 days Of Christmas Baking .. a count down to baking wonderful recipes for the family and friends to enjoy 
I love Christmas baking so I wanted to find you some recipes that I think you may love and share one with you each day ..
 Day 24

 ….

Mince Pies 

No Christmas baking would be complete without making  mince pies , I love them so I wanted to find you a recipe that you can also make your own sweet mincemeat too, I think you will love making these pies I think they are one of those desserts that just have to be made this time of the year

This great recipe has been brought to you by Huang Kitchen on YouTube and on the website huangkitchen.com  ,thanks for sharing this recipe with us

Here below is the recipe and the video tutorial to watch both recipe making the sweet mincemeat and making the mince pies from the YouTube channel
Homemade vegetarian mincemeat is made using a variety of fresh, dried and candied fruits, simmered over low heat in a flavourful mixture of butter, fruit juice, brown sugar,rum, lemon and orange zest and ground spices. Also, this mincemeat can be used the very next day after it's made, or refrigerated for later use. Perfect for last minute baking!
For the Sweet mincemeat 
1/4 

cup 

butter 

56g, room temperature

1 

cup 

apple juice 

240 ml, unsweetened

2 

Apples 

large, peeled, cored and grated

1 

orange 

for juice and zest

1 

lemon 

for juice and zest

1/2 

cup d

ried cranberries

1/2 

cup 

candied mixed peel

1/2 

cup 

candied red cherries

1/2 

cup 

candied mixed fruits

2/3 

cup 

rum 

light or dark
 For The Mince Pies
Christmas Mince Pies or Christmas Mince Tarts are made with a plain crisp and buttery shortcrust pastry to better contrast the rich, fruited filling of a really good mincemeat. These pies have decorative cut outs as lids which make them look so festive and they taste absolutely delicious. One bite of this homemade Christmas mince pie and you'll never want to buy them again. Truly, there's nothing quite like a homemade mince pie, served warm from the oven over a glass of mulled wine or a cup of coffee to get on into the merry momentum.
INGREDIENTS
1 1/4 cup all-purpose flour 175g
1tbsp sugar 15g
1/2 tsp salt2g
1/2 cup butter 113g, cold and cut into cubes
3tb spice cold water
1 cup mincemeat 300g (from Christmas Fruit Mince recipe above )