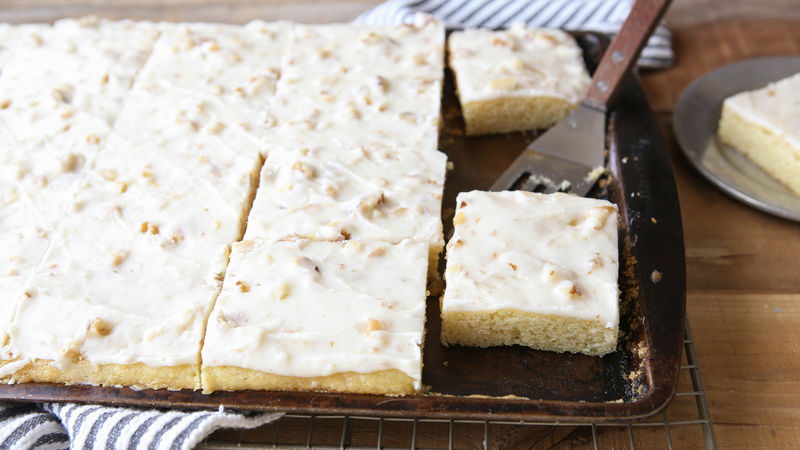 What a great cake to make is this white Texas sheet cake so great to make when you need that cake for a large gathering as this will serve 24 people .. I think everyone will love this cake
About Texas Sheet Cake
Texas sheet cake is a sheet cake which may or may not be native to the state of Texas, although it has become a symbol of Texan hospitality and friendliness. In addition to being made in Texas, this sheet cake is also popular across the American South, and it appears in many cookbooks which feature traditional American foods. For cooks, the big advantage of this cake is that it is very easy to make and serve, and it tends to be a big hit.
Sheet cakes are cakes which are served as single-layer cakes, covered with a layer of simple frosting. While sheet cakes are basic, they don't necessarily have to be dull, and there are many different ways to prepare, serve, and decorate a sheet cake. By tradition, a sheet cake is square, although one could technically use a cake pan of any shape.
In the case of Texas sheet cake, the key characteristic is the fact that the cake is served in the pan it is baked in, with the cook frosting only the top of the cake, since this is the only part which can be reached. The decision to bake and serve in the same pan makes this cake a snap to serve, and it also makes it convenient for potlucks and parties, since cakes are much easier to transport in their baking pans.
Article Source :http://www.wisegeek.com/what-is-texas-sheet-cake.htm
This  great recipe has been brought to you by bettycrocker.com website, thanks for sharing it with us
Here below is a list of the ingredients you will need to make this cake from the website
This made-from-scratch cake is the vanilla rendition of the original Classic Texas Sheet Cake and gives the chocolate version a run for its money.
Recipe by

Annalise Sandberg
Ingredients
Cake
2 cups Gold Medal™ all-purpose flour
2 cups granulated sugar
1 teaspoon baking soda
1/2 teaspoon salt
2 eggs
1/2 cup sour cream
1 teaspoon vanilla
1 cup butter
1 cup water
Frosting
1/2 cup butter
1/3 cup milk
4 cups powdered sugar
1 teaspoon vanilla
1 cup chopped walnuts