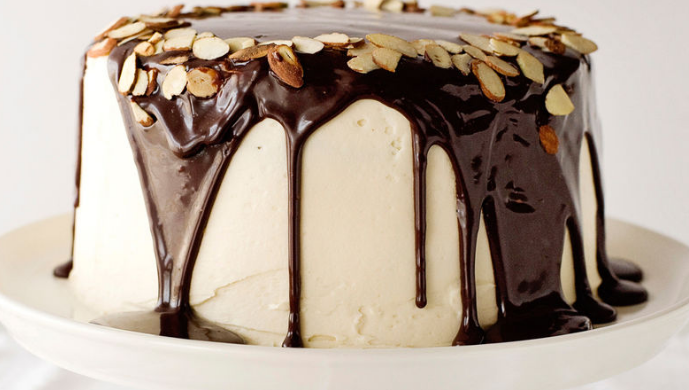 What a cake to celebrate any occasion with .. I was so impressed with this recipe as soon as I found it.. it  that  had to go into the dessert category so that you all can have a chance of making it too for that special event like a dinner party
Such a stunning looking cake I am sure you will agree I was looking at the time for a recipe to share with you for National Bittersweet Chocolate with Almonds Day and I think I found that one
This great recipe has been brought to you by bettycrocker.com website , thanks for sharing it with us
Here below is a list of the ingredients you will need to make this amazing cake from the website
Prep Time 

30

MIN

Total Time 

3

HR

0

MIN

Servings 

8
When you're celebrating a grown-up occasion, you deserve a grown-up cake. This beautiful creation uses Betty Crocker SuperMoist devil's food cake mix, pudding and Irish liqueur in both the cake and frosting.
Cake
1  box Betty Crocker™ SuperMoist™ devil's food cake mix
1 box (4-serving size) chocolate instant pudding and pie filling mix
4 eggs
1/3 cup vegetable oil
1 cup Irish cream liqueur
1 cup sour cream
Irish Cream Frosting
1 cup butter, softened
4 oz (half of 8-oz package) cream cheese, softened
3 cups powdered sugar
1/4 cup Irish cream liqueur
1 teaspoon vanilla
Chocolate Glaze
4 oz bittersweet baking chocolate, chopped
1/2 cup whipping cream
1/4 cup light corn syrup
2 teaspoons vanilla
1/3 cup sliced almonds, toasted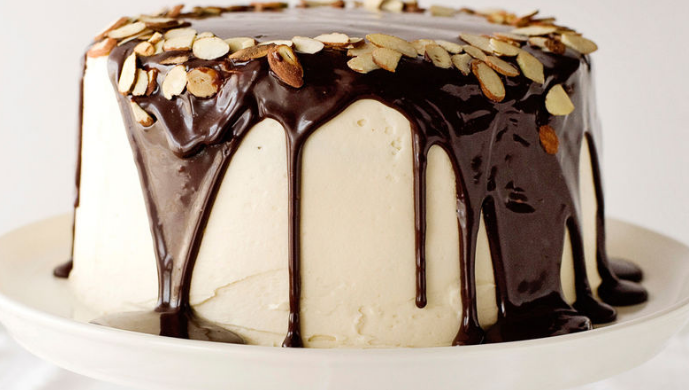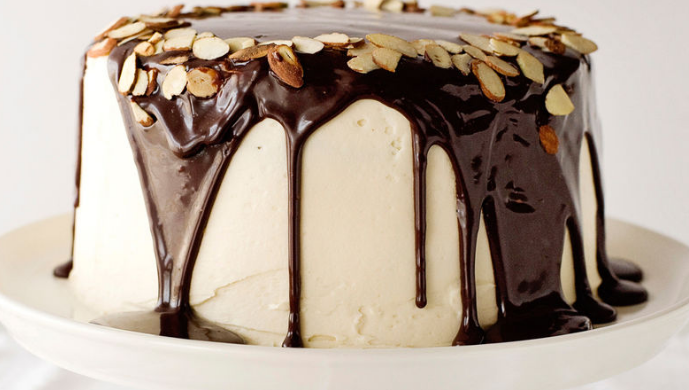 To get the recipe :http://www.bettycrocker.com/recipes/irish-cream-celebration-cake/0150fe31-ef17-4db0-b857-2104047aa945
National Bittersweet Chocolate with Almonds Day
The National Bittersweet Chocolate with Almonds Day is annually observed on November 7. It celebrates a very particular combination of flavors – dark chocolate and toasted almonds. Both bittersweet chocolate and almonds are known to have health benefits.
Bittersweet chocolate is a type of dark chocolate. Dark chocolate consists of chocolate liquor (pure cocoa mass), fat, and sugar. It contains very little milk or no milk at all. Dark chocolate varieties differ in sugar content. Semisweet chocolate contains half as much sugar as cocoa while sugar percentage in bittersweet sugar is not higher than 33%.
Almonds are edible seeds of the almond tree. They are referred to as nuts although they are not true nuts from a botanical point of view. However, almonds are nuts in the culinary sense. Almonds have a distinctive flavor and are widely used in many sweets and desserts, including but not limited to nougat, marzipan, macarons, financiers, jesuites.
The combination of chocolate and almonds has been known since at least mid-18th century; Eliza Smith's cookbook The Compleat Housewife contained the chocolate almonds recipe. Bittersweet chocolate goes really well with almonds as its bitterness accentuates their flavor.
Article Source :https://anydayguide.com/calendar/735