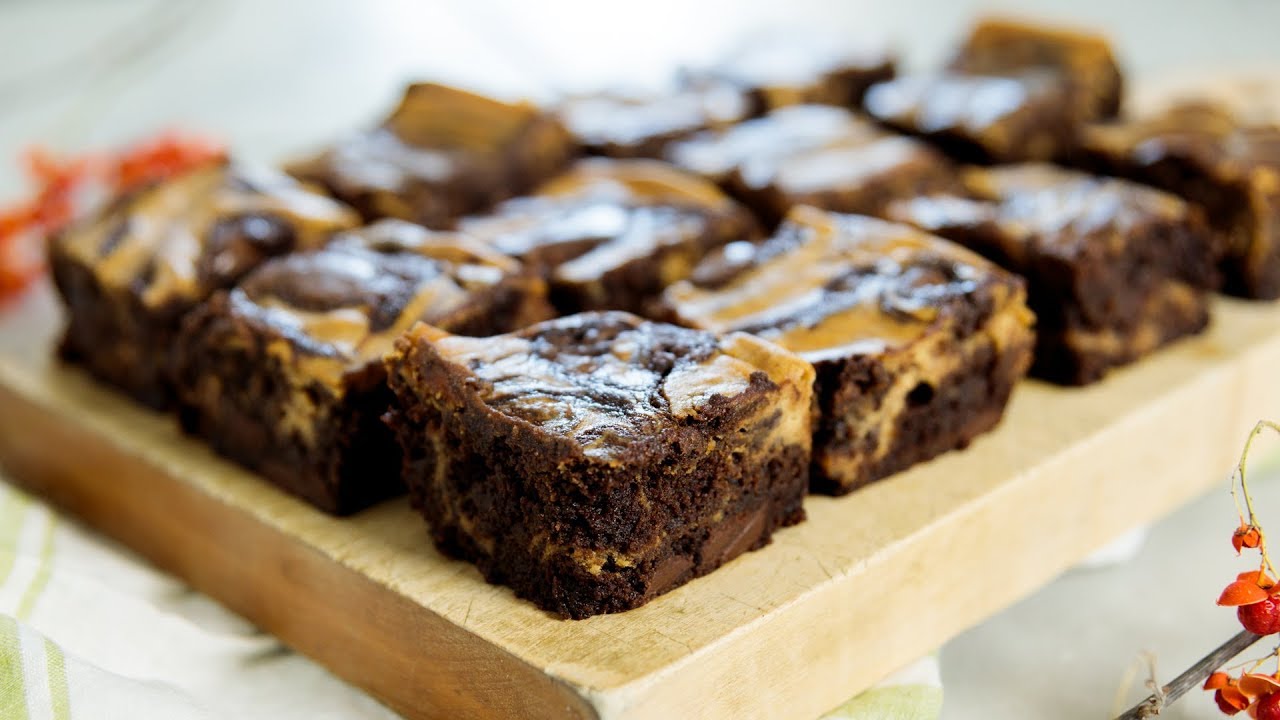 I love brownies as most of you will know so seeing as Halloween and Thanksgiving is around the corner I just had to find you a brownie recipe, so how about these pumpkin cheesecake brownies, they look so delicious I certainly will be giving them a go
Great to eat with a mug or two of hot chocolate why not try making a crock pot of hot chocolate to have with them great for when visitors drop in, nothing more homely than offering them a brownie and a hot chocolate
Here is a recipe for a crock pot hot chocolate if you should need one https://afternoonbakingwithgrandma.com/love-this-slow-cooker-deluxe-hot-chocolate-buffet/
This amazing Pumpkin Cheesecake Brownie recipe has been brought to you by The Gray Boxwood on YouTube, thanks for sharing it with us
Here below is the recipe and video tutorial both from YouTube
FOR THE PUMPKIN CHEESECAKE FILLING –
8 ounces softened cream cheese – 1/2 cup brown sugar – 1 egg – 1 cup canned pumpkin – 1 teaspoon vanilla extract – 2 tablespoons heavy cream – 1 teaspoon cinnamon – 1/4 teaspoon allspice
FOR THE BROWNIES – 1 cup melted butter – 1 cup white granulated sugar – 1 cup brown sugar – 2 teaspoons vanilla extract – 3 eggs – 3/4 cup cocoa – 1 1/4 cup flour – 1/2 teaspoon salt – 1 teaspoon baking powder – 1 cup bittersweet chocolate chips
INSTRUCTIONS
Preheat oven to 350 degrees.
FOR THE CHEESECAKE
In a medium bowl, fold the cream cheese until smooth to ensure it is soft.
Add bown sugar and stir until dissolved.
Mix in the egg and pumpkin.
Fold in the vanilla, cream, cinnamon and allspice until smooth.
Set aside.
FOR THE BROWNIE
Whisk together the melted butter and sugars in a large bowl.
Add the vanilla and eggs, whisking to incorporate.
Sift in the cocoa and flour to ensure there are no lumps.
Add salt and baking powder.
Fold until no dry streaks remain then fold in chocolate chips.
Prepare a 9×13 baking pan by spraying with nonstick baking spray.
Line with one layer of parchment and spray parchment.
Pour half the brownie batter in the prepared pan and spread to an even layer.
Pour cheesecake filling over brownie batter and spread evenly.
Place remaining brownie batter on top of cheesecake layer, filling in clumps evenly. Using a table knife, make figure 8 drawings all over the brownies, making sure the knife is touching the bottom of the pan.
Do not worry about being too aggressive.
Bake in preheated oven until the center jiggles slightly and the edges are set, 45-60 minutes.
Remove from oven and cool completely, about 4 hours. Using parchment sling, remove brownies from pan and cut into squares.
Store in an airtight container in the refrigerator up to one week or in the freezer up to four weeks.