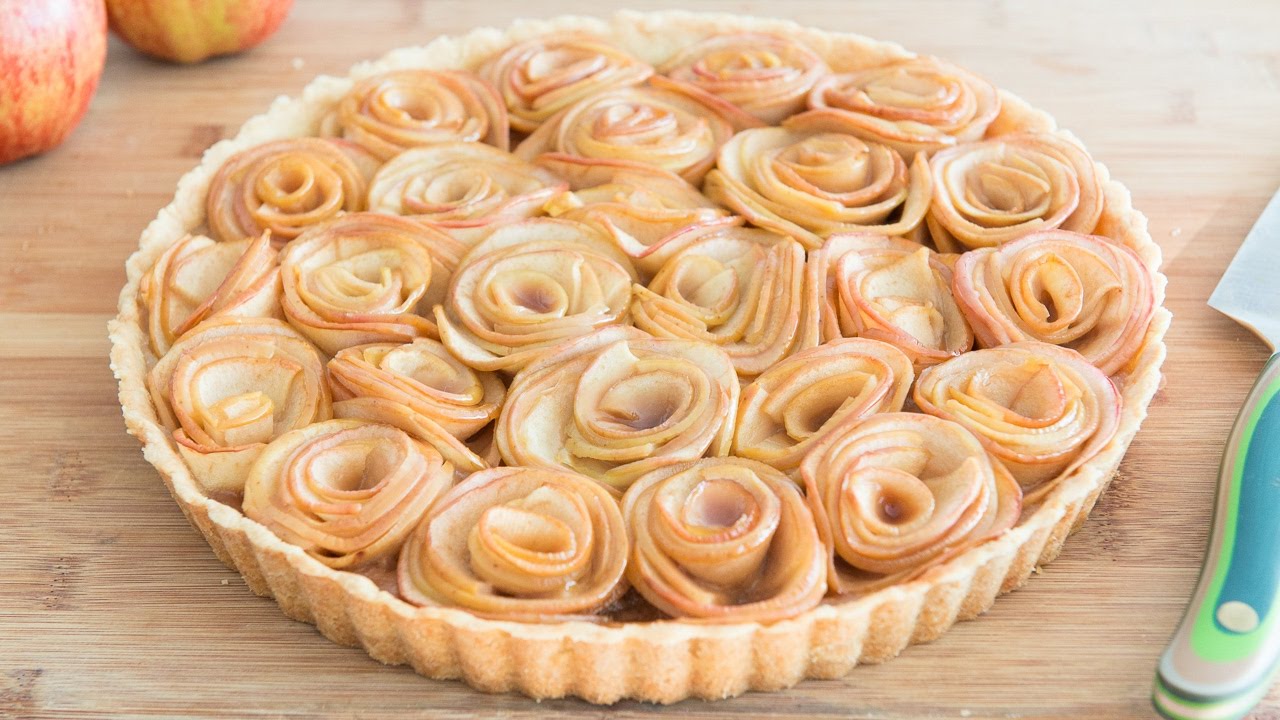 What a fantastic tart to make for that special dinner party , I personally love the way that this tart looks with those apple roses on the top a real dinner party crowd pleaser .. I think the only thing is that it is a shame to cut it .. oh well never mind
This great recipe is brought to you by Fifteen Spatulas on YouTube , thanks for sharing this recipe with us
Here below is the recipe and the video tutorial to watch both from the YouTube channel
Caramel Apple Rose Tart Recipe:
Yield: One 11″ tart
Ingredients:
For the crust:
1¾ cups all purpose flour
¼ cup sugar
¼ teaspoon salt
12 tablespoons unsalted butter, melted
For the apples:
5 large apples (I used gala but most apple types can be used)
1 lemon
1 cup caramel sauce (I used homemade from this video)
vanilla ice cream, for serving, optional
Directions:
Preheat the oven to 350F.
To make the crust, whisk to combine the flour, sugar, and salt. Mix in the melted butter until the flour is moistened and the dough is crumbly.
Press the dough evenly into an 11″ tart pan with a removable bottom (a 9 or 10″ tart pan is also okay). The crust will be thin. Bake for 20 minutes until slightly golden and no longer raw.
For the apples, cut each one in half and remove the seeds with a melon baller (or use an apple corer). Slice the apple thinly with a mandolin or using a knife, then place into a bowl of water with the juice of 1 lemon, to keep the apple from browning.
When all the apples are prepped, drain the lemon water and cover the apples with boiling water. Leave for 10 minutes, until the apples are cooked and flexible.
Pour 1/4 cup of the caramel sauce into the bottom of the crust. Shape the apples into roses per the instructions in the video, then place into the tart. Pour over the remaining 3/4 cup of caramel sauce, then bake for 35-40 minutes in the 350F oven. Serve and enjoy with ice cream if desired!