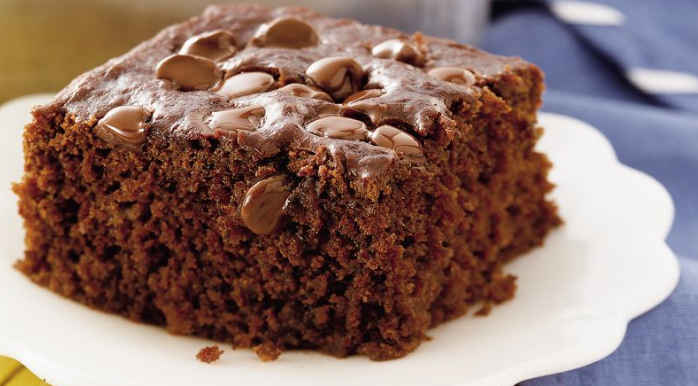 This Chocolate-Banana Snack Cake is a delicious snack that is great to have for picnics, afternoon tea with friends, or for packed lunch. It is easy to make, and it is another recipe that puts overripe bananas into good use.
Munch on a snack cake that needs no frosting but is filled with chocolate chips baked on top of a moist chocolate-banana cake.
Ingredients for Chocolate-Banana Snack Cake
1 1/4 cups all-purpose flour
3/4 cup brown sugar
1/2 cup unsweetened baking cocoa
1 teaspoon baking soda
1/4 teaspoon salt
1/3 cup vegetable oil
1/3 cup water
1 teaspoon white vinegar
2 overripe large bananas
1/3 cup semisweet chocolate chips
How to Make Chocolate-Banana Snack Cake
Preheat the oven to 350°F. In a large bowl, combine all dry ingredients: flour, sugar, cocoa, soda, salt, and mix well. Next, add the vegetable oil, water, and then white vinegar. Stir until incorporated.
In an 8-inch square pan, mash your ripe bananas with a fork. Pour over the batter and mix. Sprinkle top with chocolate chips and then bake the cake for 35-37 minutes or until a toothpick inserted comes out clean. Remove from the oven and cool completely.
To see the original recipe that inspired this one, check out the recipe for Chocolate-Banana Snack Cake found at BettyCrocker.com