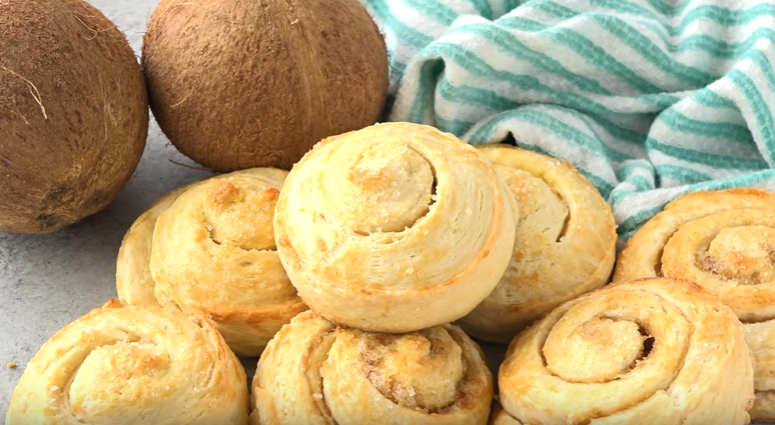 I love to bake recipes that I can make for breakfast or brunch as my family are often all home at the weekends so I was so pleased when I found this recipe for coconut rolls they look so delicious and I just know my family will love them so I hope yours do too
This great recipe has been brought to you by The Stay At Home Chef on YouTube , thanks for sharing this recipe with us
Here below is the recipe and video tutorial both from the YouTube channel
Coconut Rolls
INGREDIENTS
1 (13.5 oz) can unsweetened coconut milk
2 1/4 teaspoons instant dry yeast
3/4 cup sugar
1 teaspoon salt
6 egg yolks
2 cups melted butter
1 teaspoon coconut extract
7 1/2+ cups all-purpose flour
1 egg, beaten
2 tablespoons course sugar or sugar crystals (optional)
INSTRUCTIONS
Heat the coconut milk in a microwave safe dish until just warm to the touch, about 45 seconds.
Pour into the bowl of a stand mixer. Add in yeast, sugar, salt, egg yolks, butter, coconut extract and 6 1/2 cups all-purpose flour. Start mixing on a low speed until just combined.
Add in remaining 1 cup flour and continue mixing until you have a solid dough ball that doesn't stick to your hands. If you need to, add additional flour 1/2 cup at a time until the right consistency is reached.
Transfer dough to a lightly greased bowl. Cover and let rise 2 hours.
Turn the dough out onto a lightly floured clean countertop. Roll into a large rectangle, about 1.2 inch thick. Slice into 12 long strips.
Roll each strip to form a spiral rolled dough. Place onto a 2 lightly greased baking sheets. Brush with beaten egg and sprinkle with sugar crystals if using.
Bake in a 350 degree oven for 20-25 minutes, until the tops are a light golden brown.