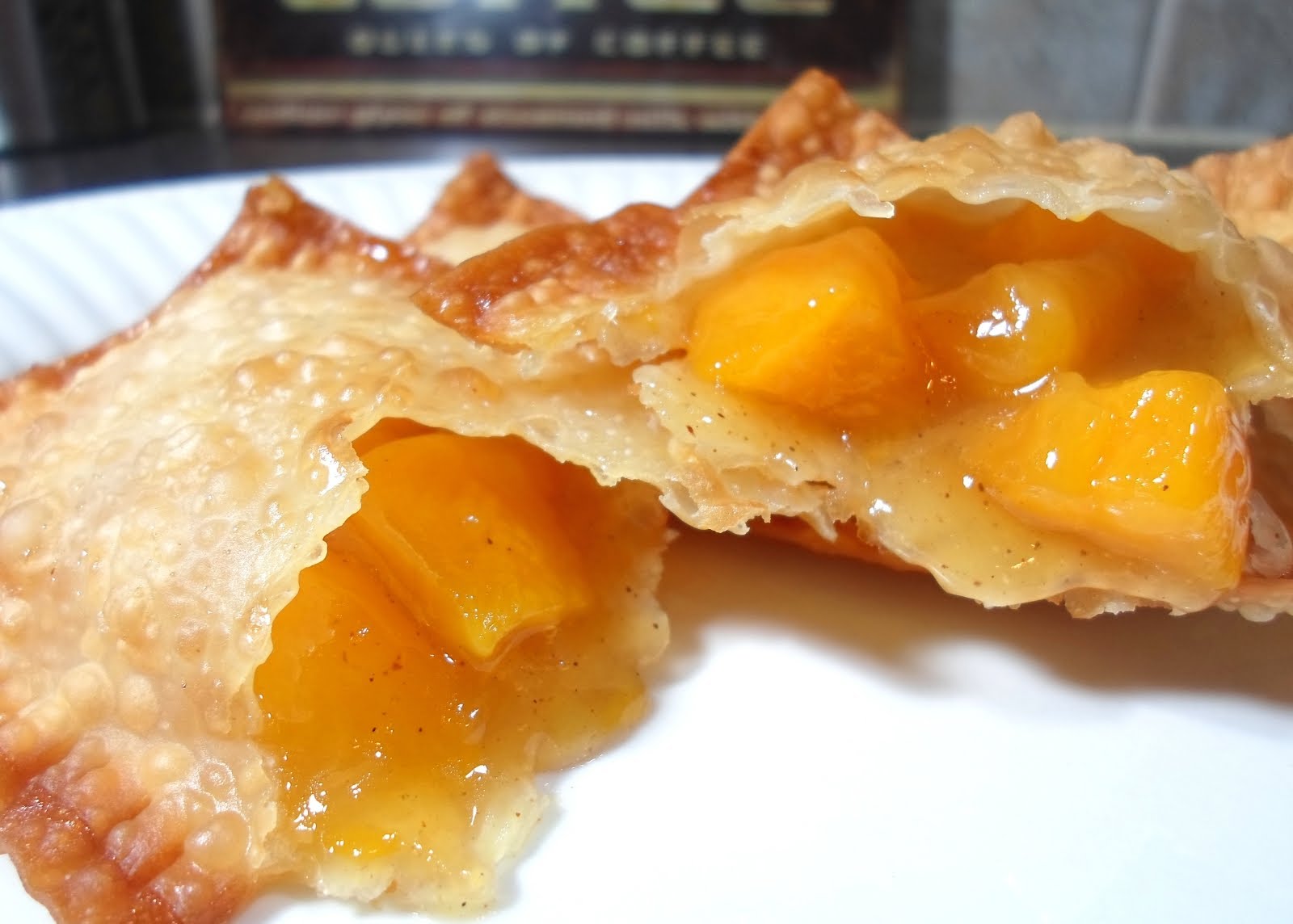 Fried pies are good. They are like regular baked handmade pie, but they are deep-fried, which gives the crust that delicious crispy texture with juicy fruit filling inside.

I love McDonald's pies, so I wanted to recreate them at home using this recipe and seeing today is National Fried Pie Day, which makes it better to make these wonderful pies.

Did you Know?
In 1968, McDonald's was the first to introduce fried apple pies. While the blueberry or blackberry variations from New Hampshire are U.S. President Franklin Pierce's favorite.

Learn more about fried pies at Foodimentary.

Ingredients for Fried Pies
For the filling:
28 oz can of peaches, drained
1/4 cup granulated sugar
1/8 teaspoon cinnamon
1 teaspoon vanilla extract
2 tablespoons butter
1 pinch salt
1 tablespoon of water
1 tablespoon cornstarch

6 egg roll wrappers
vegetable oil for frying

How to Make Fried Pies

To make the filling, combine drained peaches, sugar, cinnamon, and vanilla extract in a pot. Cook over medium heat and stir to dissolve sugar. Using a spatula, break the peaches into bite-sized pieces. Toss some butter and stir again. When filling becomes juicy, add a pinch of salt.

In a small bowl, dissolve cornstarch with 1 tablespoon of water, and then pour in the peaches. Reduce the heat to low and cover the pot with the lid and cook for another 35 minutes or until peaches are soft. Once cooked, transfer the filling into a bowl and let it cool for half an hour.

Meanwhile, cut the egg roll wrappers in half. Fill them with about 3 tablespoons of the filling, leaving 1/4 inch of the edge. To seal the pies, wet the edges by brushing some water and then put the other half on top. Crimp the edges with a fork.

Heat vegetable oil to 350°F and fry the pies until golden brown. Allow them to cool on a wire rack.

To see the original recipe that inspired this one, check out the recipe for Fried Pies found at Chef Kendra Nguyen.