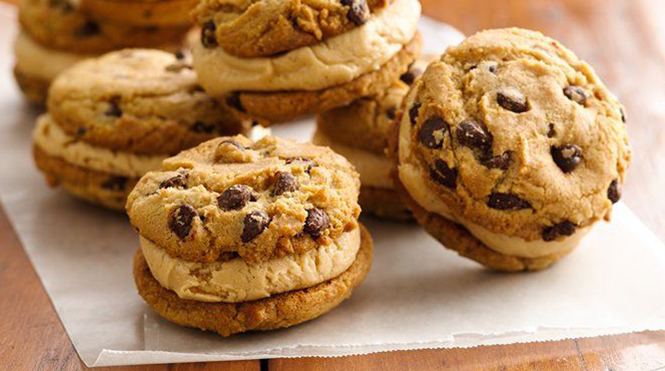 I love chocolate chip cookies so  wanted to find some recipes that are chocolate chip with a variation to them and I found a few like this one for a Gluten-Free Chocolate Chip Peanutter Whoopie Pies .. that look so delicious .. they would be so good to make over a weekend to have with mugs of hot chocolate or latte
chocolate chip cookies are  mostly a drop kind of cookie that did originate  from the United States and has  chocolate chips as its distinguishing ingredient.
A  traditional chocolate chip cookie recipe is a  dough composed of butter and both brown and white sugar semi-sweet chocolate chips, a candy. there are many variations  with other types of chocolate as well as additional ingredients such as nuts or oatmeal.
What I love about this cookie recipe is it using a brought cookie dough which is great when you want a fast cookie recipes at your fingertips of course you could make a your own cookie dough if you wish
This great cookie recipe has come from tablespoon.com website, thanks for sharing it with us
Here below is an excerpt and a list of the ingredients you will need
Chocolate chip cookie dough with a creamy peanut butter filling is a delicious twist on a traditional whoopie pie.
Ingredients
Cookies
1 1/2 containers Pillsbury™ Gluten Free refrigerated chocolate chip cookie dough
Filling
1/2 cup creamy peanut butter (almond butter can be substituted)
1/4 cup unsalted butter, room temperature
2 cups powdered sugar
1 jar (7 oz) marshmallow creme
1/2 vanilla bean, scraped, if desired
1 teaspoon pure vanilla extract