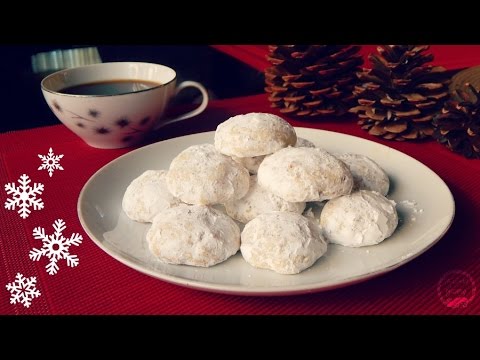 I love baking around the Holidays either for my family and friends or to make to give to someone special as a homemade present so I want to find you some recipes that I think you may enjoy making too, so how about these Pecan Snow Biscuits , that I just know you will love to make .. just look at how good they look I could not resist thinking about making them , how about you ?
This great recipe has been brought to you by The Sweetest Journey on YouTube, thanks for sharing this recipe with us
Here below is the recipe and the video tutorial to watch both from the YouTube channel
Ingredients:
2 1/2 Cups All Purpose Flour
1/4 Teaspoon Salt
1 Teaspoon Baking Powder
1/2 Cup Pecans, Finely Chopped
1 1/4 Cup Butter
3/4 Cup Sugar
3 Eggs
2 Teaspoons Vanilla Extract
1 Cup Confectioner's (Powdered) Sugar
*Makes About 4 Dozen Cookies
Directions:
1. In one bowl sift together the flour, salt, and baking powder. Add the pecans and whisk together. Set aside.
2. In another bowl, cream the butter and sugar until fluffy. Add the eggs one at a time. Mix in the vanilla extract. Add the dry ingredients to the creamed mixture and mix until well combined. If necessary, refrigerate dough until easy to handle, about 1 hour.
3. Scoop dough into balls about 1 inch in diameter. Place on a parchment lined baking sheet. Bake at 375°F for about 15 minutes or until lightly browned.
4. Let cookies cool completely. Cover each cookie with powdered sugar.