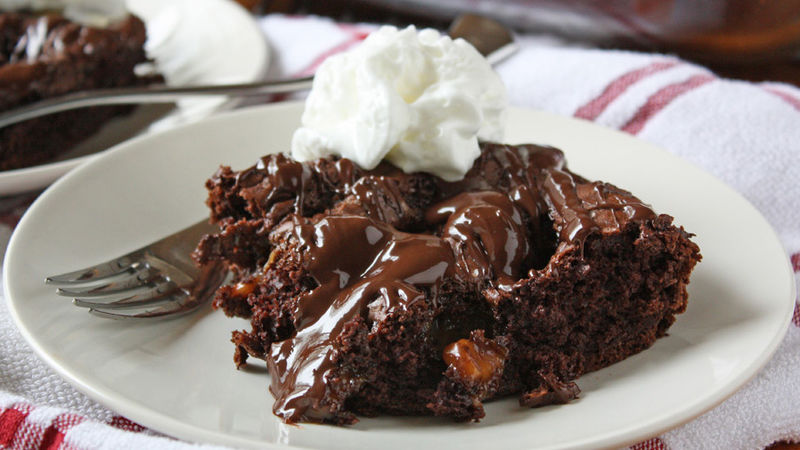 Dump cakes are so good to make for that occasion when you have family or friends coming over , so I wanted to find you some recipes that I just know you will love to make , so here is a recipe for a wonderful Salted Caramel-Chocolate Dump Cake .. so good isn't it ?
These dump cakes are so easy there's no way you can mess them up. We promise.
Here is an excerpt about what dump cake is
Dump cake may not have the most flattering name but it is a dessert that many people rave about. The name cake is a little bit deceptive and some people prefer to call a dump cake a version of cobbler instead. When people are not praising its delicious taste, they're often celebrating how quick and easy this dessert is to make.

A dump cake is usually a combination of canned fruit, with cherries and pineapples being some of the most preferred. Fruit is usually drained and combined on the bottom of a baking dish. Next, people add yellow or white cake mix, simply pouring the mix right over the fruit. Recipes vary but most then direct people to add slices of butter on top of the cake mix. When the cake is baked it has a lovely top crust that is buttery over a layer of sweet fruit.

It's difficult to find dessert recipes that are easier to make than the dump cake. With the exception of stirring the fruit, you really need to do very little to assemble this cake. It's a great recipe for beginning cooks, especially young ones. Even little kids can make these because they usually don't have to measure ingredients.

Article from http://www.wisegeek.com/what-is-dump-cake.htm#didyouknowout
This great dump cake recipe has been brought to you by tablespooon.com website thanks for sharing it with us
Here below is a list of the ingredients you will need to make this cake
Sweet and salty mix together in the easiest, most decadent caramel-chocolate dump cake ever.
Ingredients
1 package (3.9 oz) instant chocolate pudding
1 1/2 cups cold milk
1 box Betty Crocker™ SuperMoist™ devil's food cake mix
1 1/2 cups chopped caramels
Coarse sea salt for sprinkling
1 cup semi-sweet chocolate chips
Whipped cream, for serving (optional)