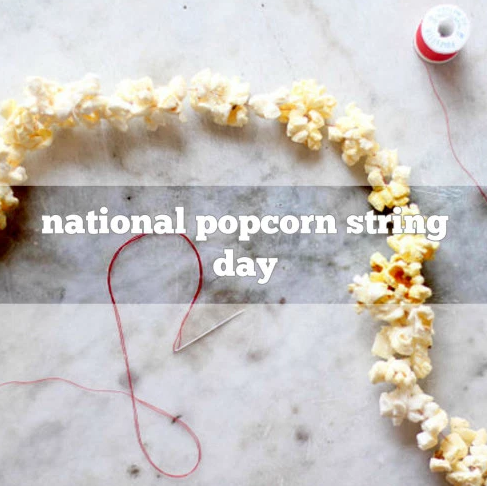 Making string popcorn for the Christmas tree is fun and it does look very festive once on the tree .. a really easy decoration to make for the holiday season as you will see from the instructions below
When it comes to holiday decorations, it's difficult to get more traditional than festive popcorn garlands on your Christmas tree. Making them is also an easy, budget-friendly way to get in the yuletide spirit — and it's fun for the entire family! Children will especially delight in helping string the popcorn so pop plenty– some for the tree, and some for the decorating team.
Seeing as it is also National Popcorn String Day I just had to share this idea with you
This great holiday idea is brought to you by wikihow.com, thanks for sharing it with us
To see how to make these popcorn garlands please use the link below
December 13th is National Popcorn String Day
Here are Four Steps of How to String Popcorn on a Christmas Tree:
Make at least one large size bowl of popcorn.
Thread the needle without cutting the thread from the spool.
Start stringing one popcorn at a time by inserting the tip of the needle into the center of each piece.
Carefully hang the garland onto your Christmas tree.
Article source :https://foodimentary.com/2015/12/13/december-13th-is-national-popcorn-string-day/