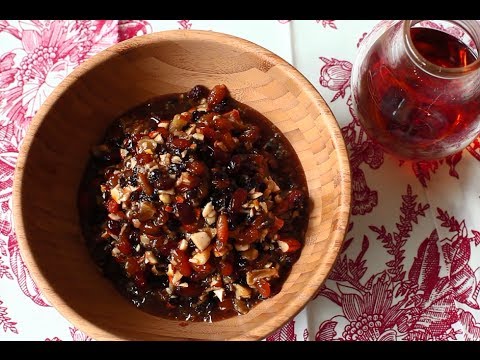 Today is National Mincemeat Day .. so how about making this sweet mincemeat that is so great for all those mince pies etc .. there is nothing quite like making your own ready for the Holiday season
I really love making my own mincemeat so when I came across this recipe I had to try it out and have been making it now for a few years .. so seeing as it is mincemeat day I thought I just had to share this recipe with you
This great recipe is brought to you by Allrecipes UK | Ireland on YouTube and on allrecipes.co.uk, thanks for sharing it with us
Here below is a list of the ingredients you will need from the website and the video tutorial to watch from YouTube
Ingredients
Makes:
 2 

(350g) jars
75g currants

75g raisins

175g sultanas

1 large green apple,

peeled

and finely chopped

100g butter

225g caster sugar

75g chopped almonds

1 heaped teaspoon mixed spice

1/2 teaspoon ground cinnamon

grated rind of 1 orange

225ml brandy (or orange juice)
Homemade mixed spice
1 teaspoon ground cloves
1 teaspoon ground ginger
1 teaspoon ground nutmeg
1 teaspoon ground cinnamon
1 teaspoon ground allspice
For conversion charts should you need them here is the link http://afternoonbakingwithgrandma.com/u-s-imperial-metric-conversions-for-recipes/
To get the full written recipe :http://allrecipes.co.uk/recipe/31068/mincemeat.aspx
National Mincemeat Day
National Mincemeat Day takes place on October 26, 2016. Mincemeat is a mixture of chopped dried fruit, distilled spirits and spices, and sometimes beef suet, beef, or venison. Originally, mincemeat always contained meat.
Many modern recipes contain beef suet, though vegetable shortening is sometimes used in its place. Variants of mincemeat are found in Australia, Brittany, Canada, northern Europe, Ireland, South Africa, the United Kingdom and the United States. In some countries the term mincemeat refers to minced or ground meat.
Mincemeat is frequently consumed during the Christmas holiday season when mince pies or mincemeat tarts are served. In the northeast United States, mincemeat pies are also a traditional part of the Thanksgiving holiday, sometimes served with a piece of Cheddar cheese. (With material from: Wikipedia) This text has been taken from www.cute-calendar.com