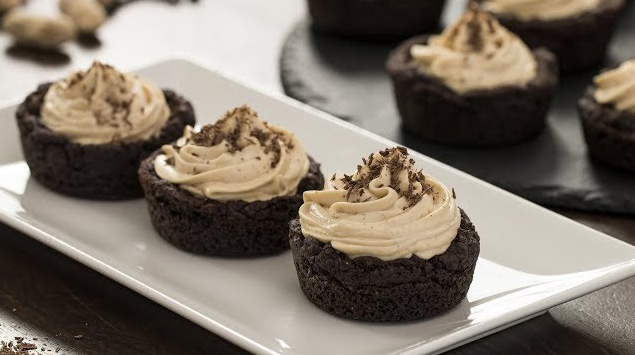 This is an amazing dessert for any occasion. A classic combination of chocolate and peanut butter just can't go wrong, and they're quite easy to make too. This recipe will make 12 servings of delicious and creamy cookie cups that will be gone in no time.
I've always tried to experiment with different fillings when I make anything. When I made these, I just thought, why not make a classic filling that everyone loves, peanut butter. And I was right, my kids absolutely love it and my husband, he ate the most. 
This is just my variation of the recipe. You can always use your favorite frostings, various fillings, fruits, ganache, ice cream, the variations are endless. Create amazing desserts each time and maybe try a combination you've never tried before.
Ingredients for Chocolate Peanut Butter Cookie
CHOCOLATE COOKIE BATTER:
1 cup all-purpose flour
1/3 cup unsweetened cocoa powder
1/2 teaspoon baking soda
1/2 teaspoon salt
1/2 teaspoon coffee
1/2 cup unsalted butter, softened
1/3 cup brown sugar
1/3 cup granulated sugar
1 large egg
1 teaspoon vanilla extract
1/4 cup semi-sweet chocolate chips
PEANUT BUTTER FILLING:
1/2 cup whipping cream, chilled 
4 ounces cream cheese, softened 
1/3 cup peanut butter 
1/3 cup powdered sugar
How to Make Chocolate Peanut Butter Cookie
First, preheat your oven to 180 degrees Celsius. Grease a muffin tin with butter or any cooking spray.
Combine the first 5 dry ingredients, mix well, and then set aside. In a separate bowl, combine the remaining ingredients for the cookie batter. Mix until well combined. Gradually add the flour mixture and then the chocolate chips and continue to mix until ingredients are well incorporated. Divide the cookie batter into 12 muffin tins. Bake for 12-13 minutes. Create a small well for the filling by pressing the bottom of a small glass on each cookie while they are hot. Let them cool on muffin tins before transferring on a cooling rack to cool them completely.
In a large bowl, using a hand mixer beat cream cheese until smooth and then add the powdered sugar and peanut butter. Mix well. In a separate bowl, beat whipping cream at high speed until stiff peaks form. Add the whipping cream gradually on the cream cheese mixture using the folding method until they are well combined. Transfer filling in a piping bag fitted with a 1M star tip, though you can use any piping tips that you like. Pipe filling into the cookie cups and then refrigerate for an hour before serving. Decorate cookies with chocolate shavings, peanut butter candies, or half of a Reese peanut butter cups and drizzle with chocolate syrup.
To see the original recipe that inspired this one, check out the recipe for Chocolate Peanut Butter Cookie found at Home Cooking Adventure.