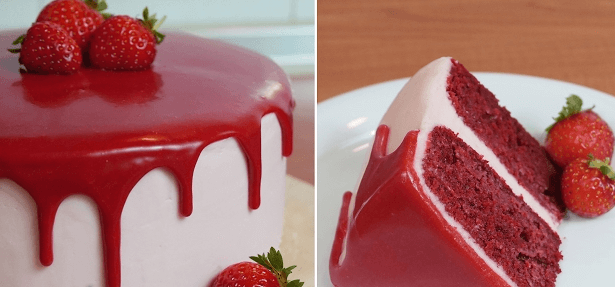 The famous red velvet cake. You can be sure that every bakery everywhere will have this beautiful and amazing cake. Today, I'm going to show you how to make this amazing cake that will be perfect for any occasion, birthday parties, family get together, valentines, anything.Cut to 10-12 slices, everyone will love you and this cake.
The bakery near my house has this amazing cake and I must admit, every time I stop over there, their red velvet cakeis always on the top of my list. But making it with your two hands brings a little something different to it, something special. So, with this recipe, I want you to be able to make this amazing cake for your family and loved ones.
This cake is already amazing on its own but don't let that stop you. You can decorate it however you want or maybe add toppings that your kids like, something like vanilla ice cream is a great pair for this cake, or maybe sprinkle some chopped walnuts, it's up to you.
Ingredients for Red Velvet Cake with Cream Cheese Frosting
FOR THE CAKE (7-8 inches pan):
7 ½ ounces all-purpose flour
1/3-ounce cocoa powder
3/4 teaspoon baking soda
1 1/2 teaspoon baking powder
1/2 teaspoon salt
7 ounces white sugar
6 1/3 ounces buttermilk or milk
1 tablespoon white vinegar
5 1/3 ounces softened butter
3 eggs
red food coloring
2 teaspoons vanilla extract
CREAM CHEESE FROSTING:
21 1/5 ounces cold Philadelphia cream cheese
4 ounces soft butter
10 1/2 ounces powdered sugar
2 tablespoons vanilla extract
FOR THE GANACHE DRIP:
4 1/2 ounces white chocolate
1 1/2 ounce milk chocolate
2 1/5 ounces heavy cream
red food coloring
How to Make Red Velvet Cake with Cream Cheese Frosting
First, preheat your oven to 350 F. Prepare 2 8-inch pan and grease and line with parchment paper. Mix buttermilk and vinegar together. Set aside. In a large bowl, cream the butter, sugar, and vanilla extract and mix using a hand mixer for about 30 seconds. Add the eggs one at a time until fully incorporated. Add the food coloring, mix a bit, then add the buttermilk vinegar mixture and your dry ingredients. Mix well to combine. Pour the batter into the pans evenly and bake for 25-30 minutes. Once done, take them out and allow to cool for 5 minutes then turn them over and let them cool completely.
For the cream cheese frosting; mix the cream cheese and vanilla in a bowl then gradually incorporate the powdered sugar then add the butter, mix until well combined.
For the ganache drip; melt the chocolates in your microwave, add in the heavy cream and mix well. Add the food coloring and mix until fully incorporated.
To assemble the cake; level your cake and add about an inch of the cream cheese frosting in between the cakes and coat all over. Pour the ganache on top of the coated cake and spread to the sides and let them drop down. Serve and enjoy.
To see the original recipe that inspired this one, check out the recipe for Red Velvet Cake with Cream Cheese Frosting found at Emma's Goodies.