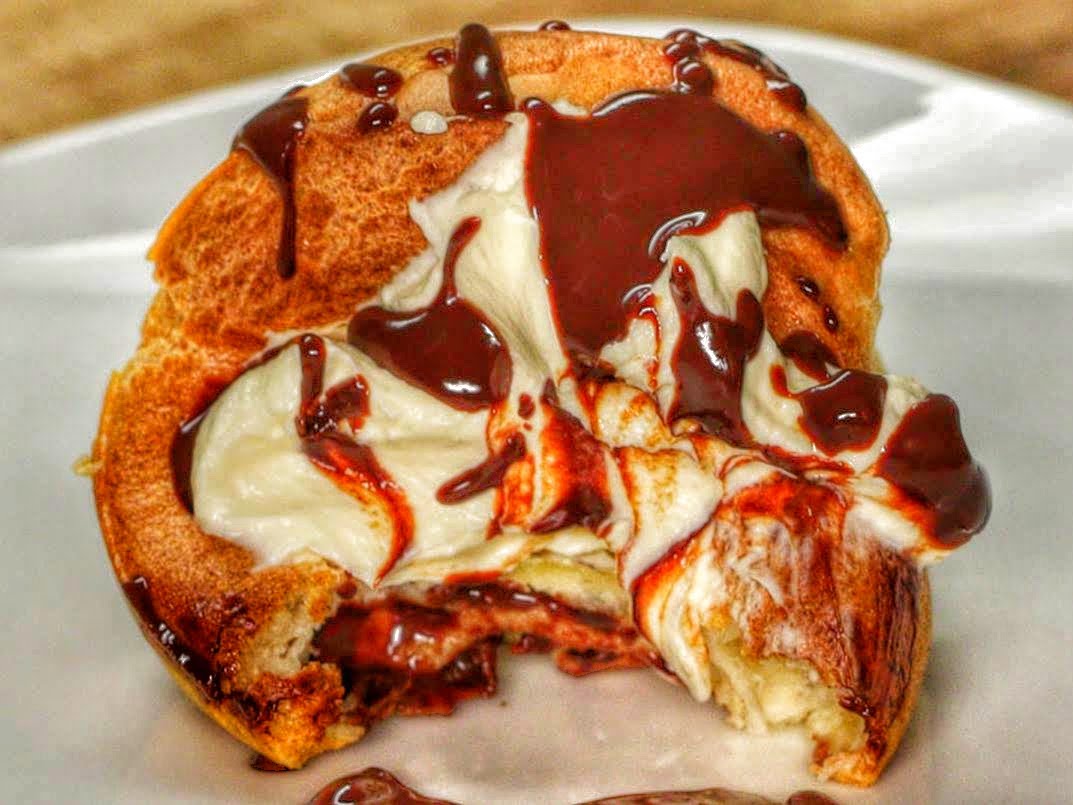 I wanted to find you a dessert recipe that uses Yorkshire Puddings as today is National Yorkshire Pudding Day .. so I was really happy when I found you this recipe for Yorkshire pudding profiteroles as profiteroles are my favourite so I just had to share this recipe with you
A really easy delicious dessert to make I think .. so why not check it out
This great recipe has been brought to you by tasty desserts on YouTube , thanks for sharing it with us
Here below is the recipe and the video tutorial to watch both from the YouTube channel
Here's what you will need:
225g plain flour
4 eggs
1 tsp sugar
400ml milk
Vegetable oil
Chocolate sauce:
100g dark chocolate
2 tbsp butter
2 tsp golden syrup
2 tsp double cream
Method:
1) Sift the flour into a large bowl, add sugar and beaten eggs
2) Add half the milk, whisk until smooth, then add the other half and whisk until lump free
3) Rest batter for 30 minutes, or refrigerate for 15.
4) Fill muffin tray with 1 tsp vegetable oil in each hole, then heat at the highest temperature on your oven until piping hot.
5) Add 3 tbsp batter to oiled holes then bake for 20 mins at 230°C/450°F.
For the chocolate sauce:
1) Heat the chocolate, butter, double cream and golden syrup in a bowl above heated water until melted. Stir.
Serve the puddings with whipped cream and chocolate sauce!
If you need an ingredient conversion chart here is one http://afternoonbakingwithgrandma.com/u-s-imperial-metric-conversions-for-recipes/
NATIONAL YORKSHIRE PUDDING DAY
National Yorkshire Pudding Day is celebrated across the United States each year on October 13.
Also known as batter pudding, Yorkshire Pudding is an English dish similar to a popover that is made from a batter and usually served with roast meat and gravy.
Cooks in the north of England devised a means of making use of the fat that dropped into the dripping pans to cook a batter pudding while the meat roasted in the oven.  A recipe for 'a Dripping Pudding' was published in 1737 in "The Whole Duty of a Woman".
"Make a good batter as for pancakes: put in a hot toss-pan over the fire with a bit of butter to fry the bottom a little then put the pan and butter under a shoulder of mutton, instead of a dripping pan, keeping frequently shaking it by the handle and it will be light and savoury, and fit to take up when your mutton is enough; then turn it in a dish and serve it hot."
In 1747, similar instructions were published in The Art of Cookery made Plain and Easy by Hannah Glasse under the title of 'Yorkshire Pudding'.  It was Glasse that re-invented and renamed the original version of 'Dripping Pudding".
To celebrate National Yorkshire Pudding Day, enjoy a "tried and true" Yorkshire Pudding recipe:
Quick and Easy Yorkshire Pudding
Yorkshire Pudding
Article Source :http://www.nationaldaycalendar.com/national-yorkshire-pudding-day-october-13/