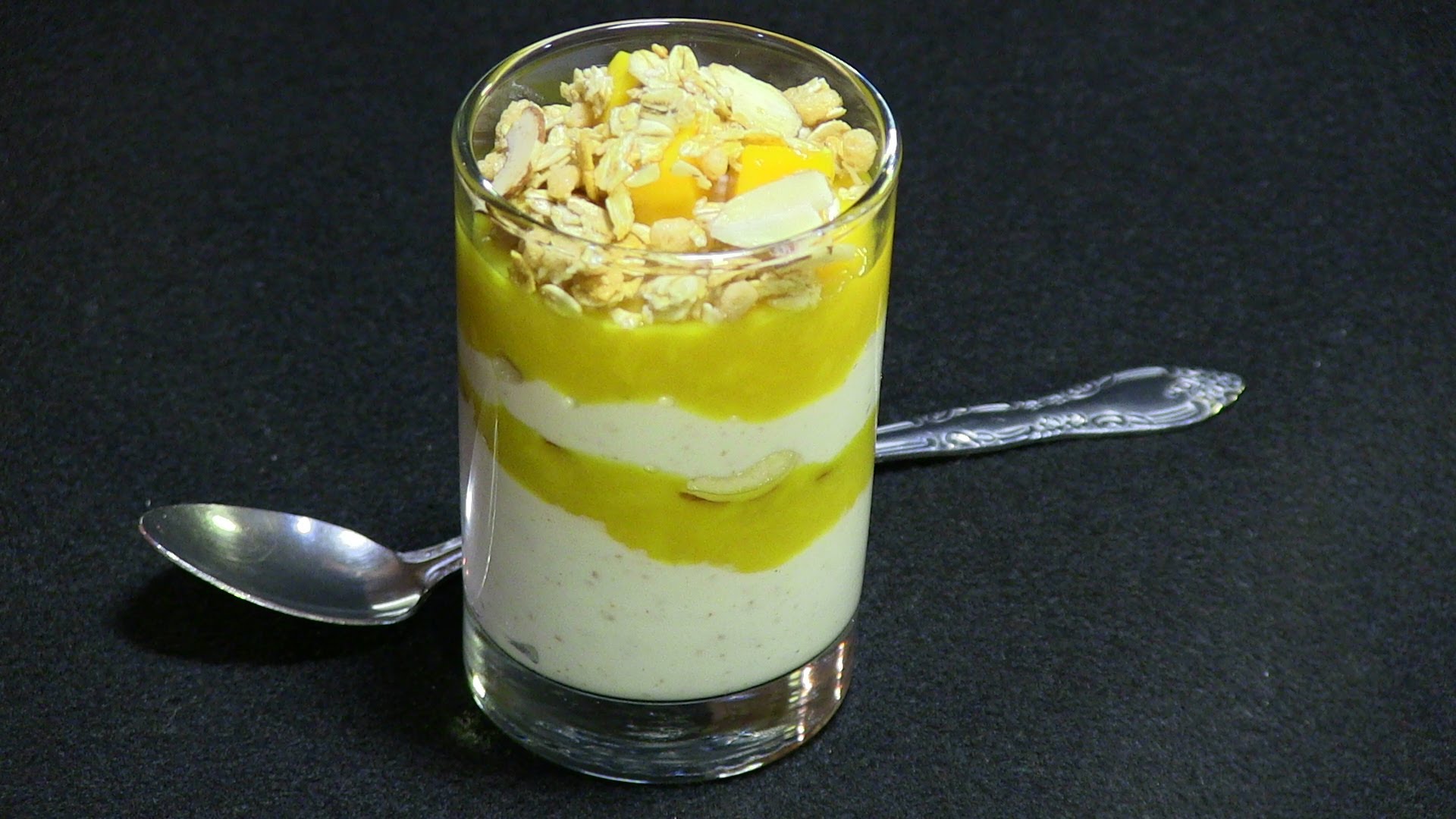 I wanted to find you a parfait recipe that had that element of a healthy alternative to this amazing dessert .. and I think I have found it in this mango fruit and yogurt version so delicious and refreshing a great way to end that perfect meal
This recipe will make two parfait but of course if you want to make more then just double the ingredients and so on
With it being National  Parfait Day why not try this recipe out .. I am sure you will love it
This great recipe is brought to you by ShowMeTheCurry.com on YouTube , thanks for sharing this recipe with us
Here below is the recipe and the video tutorial to watch both from the YouTube channel
This super easy Fruit and Yogurt Parfait recipe will save the day. With delicious layers of lightly sweetened Greek yogurt and your choice of fruits and nuts, you can confidently "have your parfait and eat it too".
Ingredients: (makes 1 to 2 Parfaits depending on size of parfait cup)
Greek Yogurt – 1 cup
Almond Meal – 2 Tbsp (grind whole almonds using a coffee grinder or other mixie)
Honey – to taste
Mango – 1, pureed (reserve few whole pieces to garnish)
Granola – 1 to 2 Tbsp
Caramelized Almonds – 1 to 2 Tbsp
Method:
1. Mix Yogurt with Almond Meal and Honey until well incorporated.
2. In a 6 oz Parfait cup or other clear narrow glass, layer 1/3 of the Yogurt mixture.
3. Top with 1/2 of the pureed Mango.
4. Add few slices of Caramelized Almonds.
5. Repeat with 1/3 of Yogurt mixture and rest of the pureed Mango.
6. Top with final 1/3 of Yogurt Mixture, cover with plastic wrap and chill for 1 hour if time permits.
7. Garnish with reserved Mango pieces, Granola and Caramelized Almonds.
Note: Try these other fruits: Strawberries or other berries, peaches, pineapple, apricots
November 25 is National Parfait Day
Here are today's five thing to know about Parfait:
Parfait is a French word that means perfect.
It is often served in a tall, clear glass and topping creation with whipped cream and fruit.
The oldest recipe with the name parfait comes from a French cookbook dated 1869. It was a frozen coffee-flavoured French ice dessert constructed in parfait-shaped (tall and thin) ice cream moulds.
French style parfait is served on decorated plates instead of tall, thin glassware.
The unique texture of parfait is because the fat, sugar, and air interfere with the formation of water crystals, which would otherwise cause an oily texture in your mouth.
Article Source :https://foodimentary.com/2014/11/25/november-25-is-national-parfait-day/