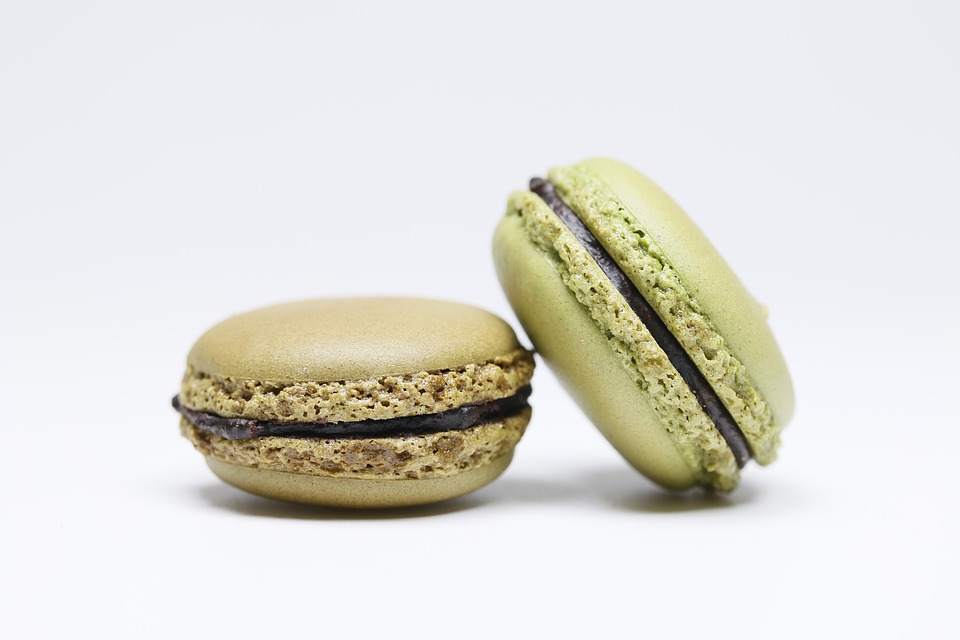 A classic French dessert with a little kick of matcha. Nice dessert and treat for yourself and for the people you care about. They are delicate to prepare, but if you are following my foolproof tips and tricks on how to master the preparation on French macaroons, you cannot go wrong.
They are with the incredibly fancy green color that comes from the matcha, and they are super delicious with that chocolate ganache in the middle of this yummy sandwich cookies. I love to have a bite in them because just two or three of those will be enough to satisfy your taste buds in a day.
The best part of the recipe is that you can make the chocolate ganache and matcha macarons a night before, and you can assemble them just before guests arrive, and you will be in charge of the desert when people go nuts for the freshly prepared cookies. They are super delicious and super easy to make. In just under 30 minutes, you will prepare the batter and form the shells, and 30 more minutes are resting where you can get the decorations on the table done. Yum!
Ingredients for Matcha Macarons With Chocolate Ganache 
For the macarons:
3 egg whites, room temperature 
 ½ cup granulated sugar 
 1 cup almond flour 
 2/3 cup icing sugar 
 1 tablespoon matcha powder
For the chocolate ganache:
 5 ounces chocolate 
 ½ cup whipping cream 
 1 tablespoon soften butter 
 1 teaspoon vanilla extract
How to Make Matcha Macarons With Chocolate Ganache
Preheat your oven to 325 degrees F or 160 degrees C. Line a baking sheet with parchment paper.
In a large mixing bowl, beat in the egg whites alongside with granulated sugar. Beat until stiff peaks form.
In a bowl aside, combine almond flour with icing sugar and stir them all together. Add in the matcha powder and stir in the mixture into the egg white mixture. Stir with a spatula until it is all combined and fall as lava consistency.
Transfer the macaron mixture into the piping bag and pipe out small cookies onto the prepared pan. Tap it down a few times to remove any bubbles in the cookies and let it rest for 30 minutes. Bake for about 7 minutes until puffed up and feet forms on the macaron cookies. Let them cool before assembling them.
Melt the chocolate, whipping cream, vanilla, and butter altogether and let the mixture sit at room temperature overnight. Transfer the ganache recipe in a piping bag and take one macaron cookie, fill it with the chocolate ganache and cover the filling with another half of the macaron. Serve and enjoy.
To see other recipes for Matcha Macarons With Chocolate Ganache, check out: 
https://www.piesandtacos.com/matcha-macarons/
http://blog.matchazentea.com/2016/01/29/matcha-tea-macaron-recipe/
https://epicmatcha.com/matcha-macaron-chocolate-ganache-recipe/