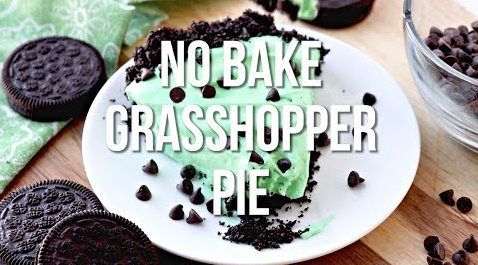 For mint lovers everywhere, nothing is as refreshing as a big slice of grasshopper pie on a warm spring afternoon. With this no-bake grasshopper pie recipe, you can make it anytime. You may even have the ingredients for this pie sitting at home in your cupboards and fridge. If you're careful about how big you make the slices, you might just be able to get 8 slices out of it. (Or you could just make it two big slices. I won't tell anyone).
My husband loves to eat mint flavored desserts, whether the free chocolate mints you get after dinner at the Olive Garden or a large Mint Chip Dazzler from the Hagen Daz in the mall. The tragic summer we joined Weight Watchers, I think it was the toughest thing for him to give up. I know that this recipe would make him smile.
While you could eat it right out of the pie plate, it would be nice to serve a slice of this pie on a doily on a glass plate. If you make the shade of green bright enough, it's the perfect complement to any St. Patrick's Day celebration. Your family will surely love the addition of the crunchy mini chocolate chips on the top.
Ingredients for No-Bake Grasshopper Pie
20 chocolate and creme sandwich cookies
1/8 cup melted butter, unsalted
1 container of marshmallow fluff
1 teaspoon liquid mint extract
6 drops of food coloring
1 container of thawed frozen whipped topping
1 cup of mini chocolate chips
How to Make No-Bake Grasshopper Pie
Pulse 20 chocolate and creme sandwich cookies in a food processor. Pour 1/2 cup of melted butter into food processor and mix well. Pour and press mixture into greased pie plate. Chill mixture in refrigerator.
Meanwhile, melt the marshmallow fluff on low until melted, stirring continuously. Pour melted marshmallow fluff into a bowl with mint extract and green food coloring. Add the whipped topping once the mixture has cooled. Pour it into the crust and add chocolate chips on the top. Put it into the refridgerator or freezer for at least four hours before serving.
To see the original recipe that inspired this one, check out the recipe for No Bake Grasshopper Pie found at The Country Cook.