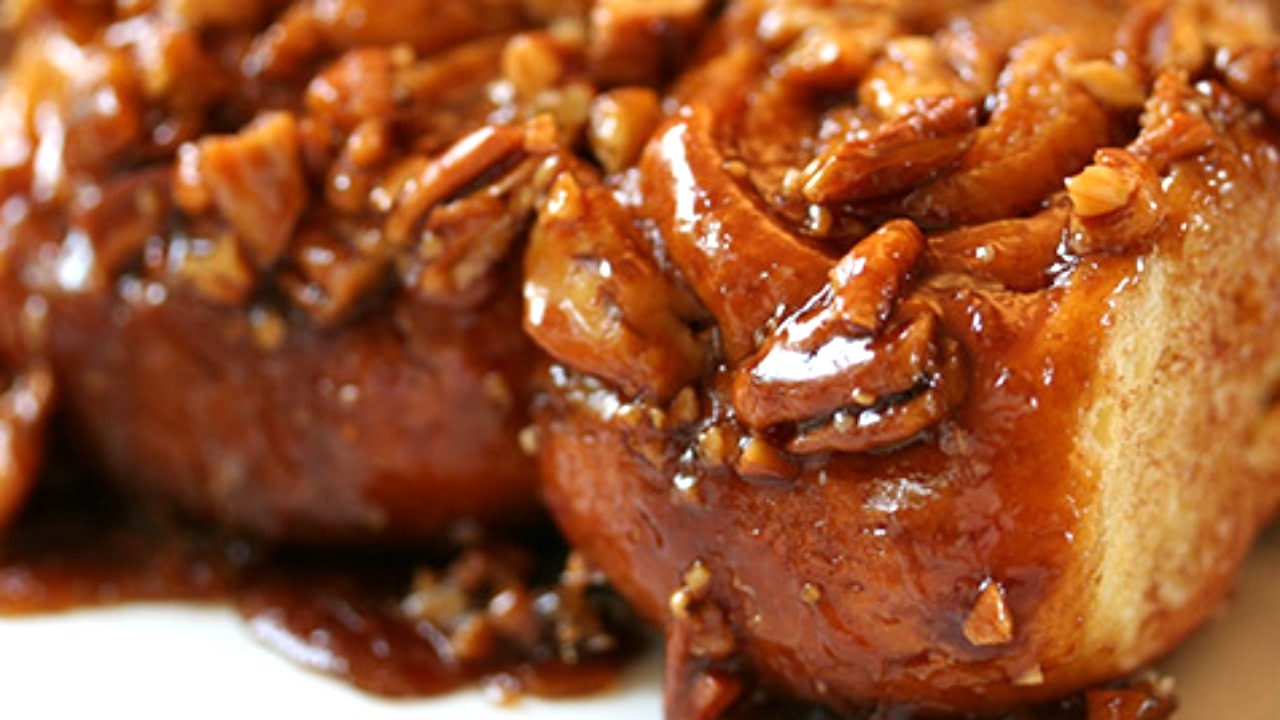 Sticky buns are so good to make for breakfast or brunch so how about trying out this recipe that I came across for you
I love a good sticky bun to have with that cup of coffee and fruit over a weekend you can't beat it .. so I was so pleased when I found this particular recipe as it is a good one so why not check it out
This great recipe has been brought to you by In The Kitchen With Jonny on YouTube, thanks for sharing this recipe with us
Here below is the recipe and the video tutorial to watch both from the YouTube channel
Ingredients:
for the dough
1-1/4 cup warm milk (105-110 F)
4 Tbsp butter, melted
1 package of yeast (2-1/4 tsp)
1 large egg
3-3/4 cup all purpose flour
1/4 cup white sugar
1-1/2 tsp salt
Caramel sauce:
1 cup brown sugar
1/2 cup butter
1/4 cup heavy cream
pinch salt
Chopped pecans, to taste
filling:
1 cup brown sugar
2 Tbsp ground cinnamon
1/3 cup butter, softned
Instructions
1. Add melted butter to warm milk, sprinkle the yeast and mix to combine, let it sit for 5-10 minutes until foamy. In the bowl of a stand mixer fitted with a dough hook, add flour, sugar and salt and mix, add yeast mixture and egg. Mix on low speed until a dough forms, increase speed to medium high and mix for 5-7 minutes or until the dough is soft.
2. Grease the boil with a little bit of oil, rub the dough with oil so that it does not dries out. Cover with plastic wrap or aluminum foil. Place it some where warm to rise for 1-2 hours (mine took 1 hour)
3. Make caramel sauce by combininig all the ingredients in a sauce pan over medium heat. Cook stirring frequently until the butter is melted and sugar is dissolved. Pour the caramel in a 9×13 inch pan. Sprinkles chopped pecans. To make the cinnamon sugar combine sugar and cinnamon in a bowl.
4. Once the dough has doubled in size, place on a floured surface and roll it out to a 16 inch rectangle. Spread the softened butter and sprinkle evently with the cinnamon sugar. Tighly roll the dough. Cut into 16 pieces. Place them cut side down on the pan. Cover with plastic wrap and allow to rise for 30-45 minutes. In the meant time preheat over to 350 F.
5. Once risen, bake for 30-35 minutes. Allow to rest for 5 minutes then invert into a big platter. Serve warm! If you have leftover you can put it the microwave for about 20 seconds and they will be soft again.