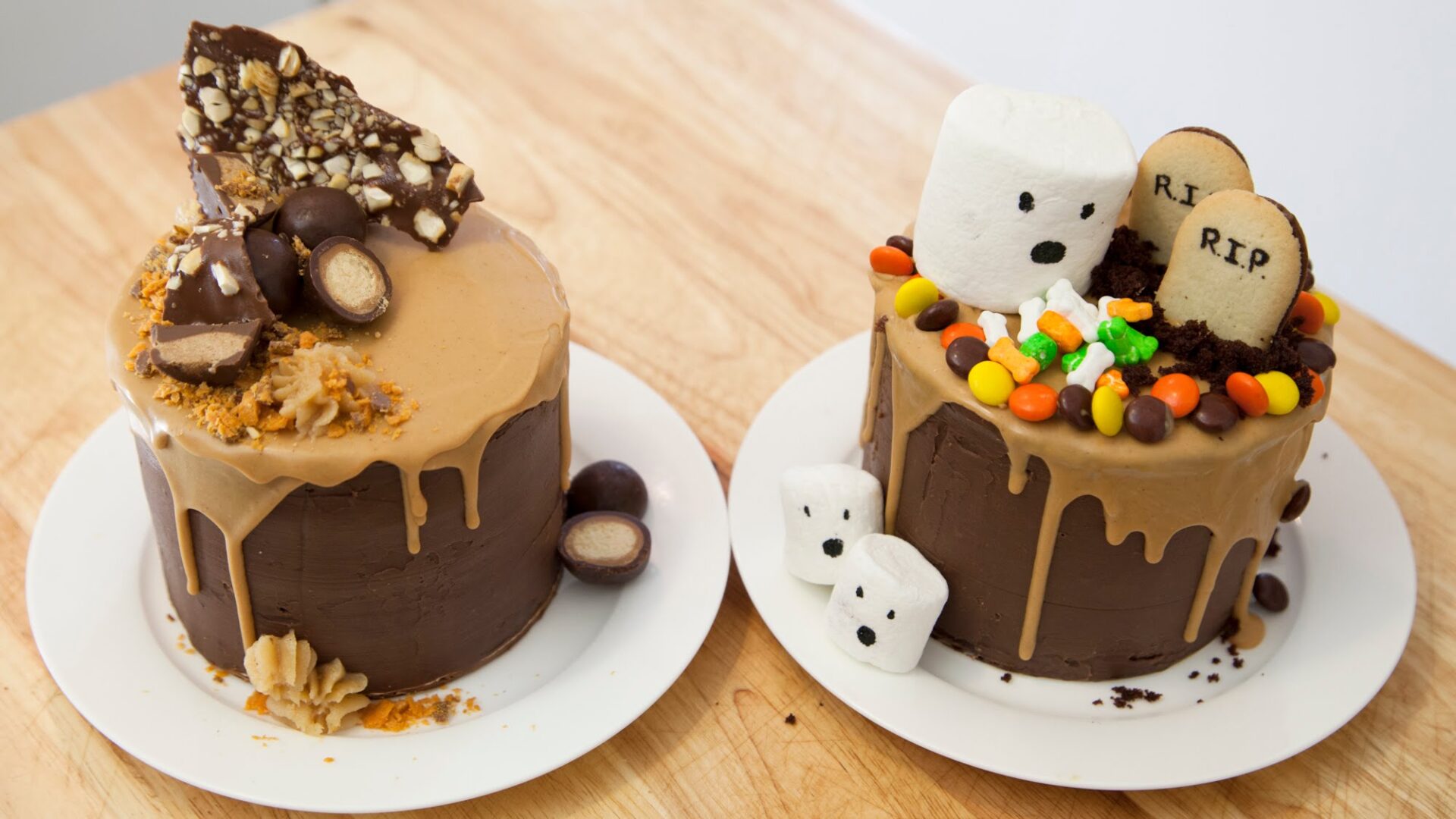 What a fantastic cake to make for a celebration or Halloween .. I love it and with Halloween around the corner I though why not share this amazing cake recipe with you
What I love about this recipe is that it is easy to follow as it is a video tutorial too which visual recipes are sometimes better to follow especially with cake decorating
This great recipe is brought to you by Lovebites on YouTube , thanks for sharing this recipe with us
Here below is the recipe and the video tutorial to watch both from  YouTube
CHOCOLATE CAKE RECIPE:
Yields: One drip cake which is 2, 5″ cakes cut in 4 pieces
*Double recipe if you want to do 2 Drip cakes (or a larger cake) as shown in the video
3/4 cup sugar
2 Tbsp. canola oil
2 Tbsp. softened butter
1 egg
1 tsp baking soda
1 tsp vanilla extract
1/2 tsp salt
1/4 cup coffee, warm or cool (not hot)
1/2 cup cocoa powder, sifted
1/4 cup buttermilk
3/4 cup AP Flour, sifted
NOTE: If you want a denser cake instead of a moister cake, substitute the baking soda for baking powder.
DIRECTIONS:
Preheat your oven to 350F. To your mixer attached with the whisk attachment, whisk your butter, oil, and sugar together on medium speed. Then add in the vanilla extract, and egg and beat for another 15 seconds. Next add in the baking soda, cocoa powder, salt, and cooled coffee, and beat until well combined.
**Make sure to scrape down the sides of the bowl periodically, to make sure all of the ingredients are well combined. Then add in your flour in 2 stages with the buttermilk in between. Scrape down the sides of the bowl, all the way to the bottom, and give everything another mix. Then butter 2, 5″ cake pans and place a layer of parchment paper at the bottom of your pans. Bake for about 40 minutes.
NOTE: You will need longer if you are doing a larger cake. Or 25 minutes if you are doing mini cupcakes
PEANUT BUTTER CREAM CHEESE FROSTING:
Yields: Enough frosting for 2 drip cakes. Half recipe if you only want to do one drip cake)
8oz. cream cheese, room temperature
2 Tbsp. (1/2 stick) softened butter
2 cups powdered sugar
1/2 cup creamy peanut butter
DIRECTIONS:
Mix the cream cheese and softened butter in a mixer, fitted with a paddle attachment, on medium speed. Once they are well combined, add half of the powdered sugar, mix on low speed and then gradually bring it up to medium speed. Once that is combined, add the rest of the powdered sugar, again starting at low speed so that the possessed sugar doesn't fly out of the bowl. Then add the peanut butter, and continue to mix until everything is well incorporated. Lastly scrape down the sides of the bowl with a rubber spatula, all the way to the bottom of the bowl, then give it another quick mix, and it's ready to place in a piping bag fitted with your desired piping tip. Place in the refrigerator for about 30 minutes (no longer than an hour) so it can firm up, and it's ready to pipe.
PEANUT BUTTER DRIP:
Yields: Enough to drip one cake. Double recipe if you want to do two cakes as shown in video.
1/2 cup peanut butter chips
1 Tbsp crisco (or any flavorless fat, such as oil)
DIRECTIONS:
Heat peanut butter chips and crisco over a double boiler until the chips are completely melted. Take it off the double boiler and let cool for about 5-10 minutes until it a little less runny. Then it's ready to pour over your cake.
WARNING: This will set pretty quickly once it's poured onto the cake, so have an idea of how you want to decorate your cake before you pour it on, otherwise your toppings will not stick to your cake.
PEANUT BUTTER CHOCOLATE BARK:
1 oz. melted mik chocolate (or any desired chocolate)
2 Tbsp. chopped peanuts (or any desired nut or other topping)
OTHER TOPPINGS:
Malt balls
mini peanut butter cups
chopped up butterfingers candy bar
HALLOWEEN CAKE TOPPINGS:
milano cookies, with bottoms chopped off
*make sure to use an edible marker, not a regular marker to write RIP and make the ghost faces
Marshmallows
cake crumbs
reese's pieces
Candy skeleton bones