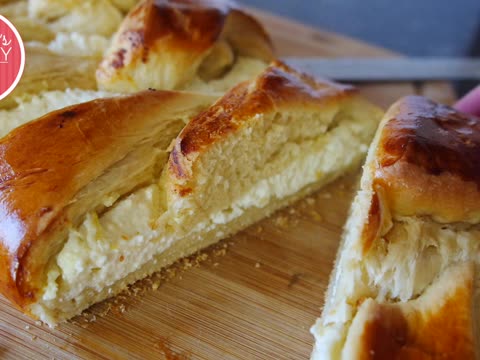 Love this bake great for Easter, a really delicious recipe that I am sure you will love to make for family or close friends over the Holidays , great to have for breakfast or brunch with that cup of coffee …I really love this recipe so I had to share it on to you all just in time for Easter .. happy baking
Ingredients :
250 ml OR 1 Cup of milk
500 gr OR 4 cups of flour
100 gr OR 1 stick of melted butter
50 gr OR 1/4 cup of sugar
7 gr 1 pack of dry fast action yeast
0.5 tsp of salt
For the filling :
500 gr of farmers cheese / dry cottage cheese or ricotta cheese ( 2 packs)
6-8 tbsp of sugar
1 egg
1 tsp of vanilla extract
Half lemon juice + 1 zested lemon
egg wash
Directions:
Step 1 : Add your fast action dry yeast into luke warm milk with sugar and mix through. Set aside for 15 min so yeast starts to activate.
Step 2 : Into a large bowl, add your milk and yeast mixture, melted butter and half the flour. Mix the dough and then add the rest of the flour with salt. Add flour onto your working surface, you have to kneed the dough for a little bit. If its too wet, add a bit more flour. Place the dough back into the bowl, but make sure you add a bit of oil into the bowl. Cover with towel and leave to raise and double in size for an hour or more. This depends on your kitchen and how warm it is.
Step 3 : Prepare the cheese filling. In a bowl, add your farmers or cottage cheese, sugar, egg, lemon juice and zest, vanilla extract and mix well. Place in a fridge.
Step 4 : Once your dough has risen, place in onto the floured surface, and roll it out. Add your lemon cheese filling in the middle. Cut the dough from both sides into stripes like in the video.
Step 5 : Fold the dough from both sides, creating a pattern.
Step 6 : Leave the dough to raise for another 20 min. In the meantime preheat your oven to 180 C or 350 F.
Step 7 : Coat the dough with egg wash and bake in preheated oven for 25-35 min until its golden and done. Enjoy hot or cold with tea or coffee.
Source from YouTube
Source: Easter Bake Recipe by Allasyummyfood on Rumble