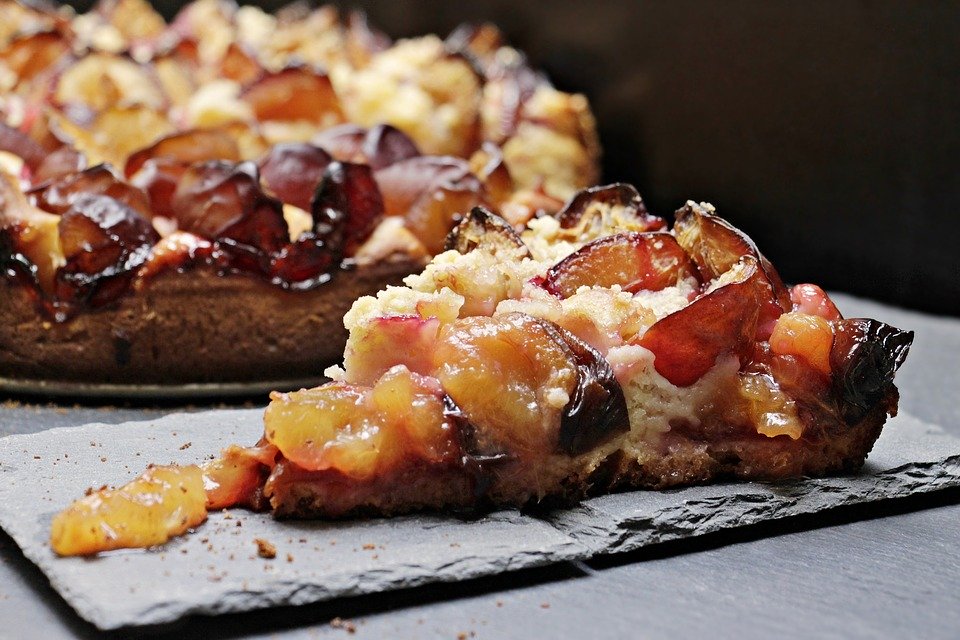 Do you remember when you have been invited to a tea party with your friends? How great is that once a week or even once a month to gather with your friends in a very lovely atmosphere at someone's garden or home. This type of gatherings asks for very special treats for the guests. 
Nothing can give you a warm welcome to your guests, then this Plum Streusel Cake recipe. It will bring so much fun to the tea party. Everyone will enjoy its beautiful taste and elegant presentation. It goes well not only with tea but with coffee even more. 
You need to have two bowls on your hand a wire whisk and a baking pan. That's all you need on hand to make this presentative cake. I also would like to mention that you can make it with any kind of fruit, but I think it is as tasty as it looks with plums. The best fruit for this type of cake. 
Ingredients for Plum Streusel Coffee Cake 
For the Streusel: 
1 cup all-purpose flour 
 ½ cup brown sugar
 ½ cup walnuts, chopped 
 6 tablespoons butter
 1 teaspoon of cinnamon 
 1 teaspoon vanilla extract 
For the cake batter
1 stick butter
 ¾ cup granulated sugar
 2 eggs
 1 teaspoon vanilla extract 
 1 ¼ cup all-purpose flour 
 1 teaspoon baking powder 
 ½ teaspoon salt 
 350 g plums, cored and sliced 
 icing sugar for dusting 
How to Make Plum Streusel Coffee Cake 
Preheat your oven to 350 F or 170 C degrees and grease and line springform pan with butter. 
To make the streusel in a food processor blitz all of the ingredients until fully incorporated and combined. 
To make the cake batter in a bowl of an electric mixer beat in the butter with sugar until fluffy and combined. Add in eggs, one at a time beating well between each addition. Add in the vanilla and sift in the dry ingredients: flour, baking powder, and salt. Mix until combined and Spread the cake batter in prepared pan, arrange plum slice on top of the batter and top whole cake with streusel. Pop it into the oven and bake anywhere from 35 to 40 minutes. Let it cool and before serving to dust it with icing sugar. Enjoy
To see other recipes for Plum Streusel Coffee Cake, check out:
https://www.epicurious.com/recipes/food/views/plum-streusel-coffeecake-13137
https://www.sugarsalted.com/easy-plum-streusel-coffee-cake/
https://feedingdarragh.wordpress.com/2013/06/30/plum-streusel-coffee-cake/