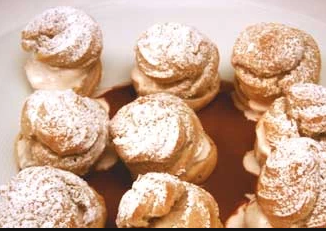 Time to make some desert profiteroles with Chantilly cream and chocolate sauce.
Profiteroles go back to the 80's, something we've all forgotten about, how to make the perfect choux pastry.
First and foremost, important turn the oven on.
125 mils of milk
200 mils of water in to the pan, it's important that we bring it to the boil slowly.
Put the butter, caster sugar and salt in,it stops it from becoming over sweet and gives a really nice sort of rustic flavor to it .
Take it off the heat when it starts to boil
Add 150 grams of plain flour, vigorously fold that flour in and place the pan back onto the heat. keep mixing it until it is  just hanging off the spoon, then cool this mixture to blood heat.
Eggs, it's really important to put the eggs in one at a time and mix in well using a spoon, therefore you get this really nice incorporation of the white and the yolk.You want a nice smooth silky soft consistency.
Then into the piping bag, one nice lump and the mixture just slowly starts to move through the nozzle.
Use a sheet of grease proof paper, stopping it from sticking to the tray, then down, push and twist away.making little round balls
Put your finger into a bottle of water and just push down those little pointed bars, this stops them all from burning.
Into the oven 18 to 20 minutes
Chocolate Sauce:
We use between sort of 60% and 70% pure careen, the better the chocolate the better the sauce, simple as that, and the secret now is to melt this chocolate over a pan of simmering water, that will melt within three to four minutes
Add the butter and the honey,stir until smooth and you're looking for this wonderful texture, take it off the heat and add the milk to it and mix.
Creme Chantilly :
Basically a really nice flavoured cream,to the cream add icing sugar and vanilla and then mix it.
Put the Chantilly cream into a piping bag, when the profiteroles are cooled push the piping tube into the profiterole, generously fill up you see the cream bouncing back at you and then just stick them together on a plate, dust over with icing sugar, pour the chocolate sauce into a jug for serving with the profiteroles.
Ingredients:
Choux pastry:
125 ml milk
200 ml water
150 g plain flour
1 teaspoon golden caster sugar
0.5 teaspoon salt
100 g unsalted butter
4 medium eggs lightly beaten
Chantilly cream:
1.5 vanilla pod split
300 ml whipping cream
1.5 tablespoons icing sugar
Chocolate sauce:
200 g good quality dark chocolate 70% cocoa solids
30 g unsalted butter
3 tablespoons clear honey
125 ml full fat milk
Oven temp : 200°C/Gas 6.