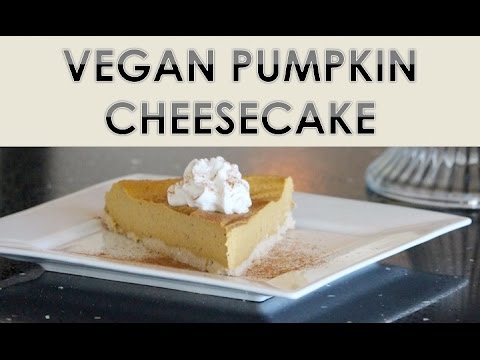 I love a good pumpkin recipe and seeing as today is National Pumpkin Cheesecake Day I just had to find a really prefect recipe for you to try .. so how about this cheesecake tart that looks so delicious it is also  Dairy Free, Gluten Free, Paleo which can't be bad so that everyone can enjoy this tart
Great to make for any occasion and seeing as Halloween is coming and then Thanks giving what a great dessert to make for everyone
This great recipe is brought to you by Mr housewife on YouTube , thanks for sharing this recipe with us
Here below is the recipe and the video to watch both from the YouTube channel
For the crust:
½ cup of Packed Coconut Flour
6 Tablespoons softened dairy free butter
1 Tablespoon Raw Honey
½ cup of unsweetened shredded coconut
For the Pumpkin Cheesecake Filling
1½ cups of Raw Cashews
1 cup of canned Pumpkin Puree
¼ cup of Fresh Lemon Juice
4 Tablespoons of Coconut Sugar
¼ cup of Full Fat Coconut Milk
⅔ cup of Melted Coconut Oil
1 Tablespoon of Vanilla Extract
2 teaspoons of Cinnamon
½ teaspoons of Nutmeg
¼ teaspoon of Cloves
¼ teaspoon of Ginger
½ teaspoon of Salt
What to do:
1. Preheat oven to 365F.
2. Combine the coconut flour, butter, honey, and coconut in a food processor.
3. Pulse until combined.
4. Spread the dough across the bottom of an 8-inch spring form pan.
5. Bake at 365F for 8 minutes.
6. Let cool to room temperature.
7.For the filling, cover the cashews in water and soak for at least 4 hours.
8. Drain completely and dry with paper towels. Try to remove as much water as you can.
9. Add the patted dry soaked cashews to a food processor or blender. Pulse until smooth.
10. Add the pumpkin, lemon juice, coconut sugar, coconut milk, coconut oil, vanilla, cinnamon, nutmeg, cloves, ginger, and salt.
11. Pulse until smooth and fully combined.
12. Transfer the filling to the 8-inch spring form pan.
13. Refrigerate for about 6 hours until set.
National Pumpkin Cheesecake Day
It's National Pumpkin Cheesecake Day! During the autumn months, festive pumpkin-flavored treats are everywhere. You can find all sorts of goodies like pumpkin ice cream, pumpkin pancakes, pumpkin soup, pumpkin beer, pumpkin coffee, pumpkin bread, pumpkin muffins, pumpkin cookies, and (today's reason to celebrate) pumpkin cheesecake!
Pumpkin cheesecake is traditionally made with a graham cracker crust and a pumpkin purée cheesecake filling. Did you know that cheesecakes were popular in Greece as early as 2000 BC? Today there are hundreds of variations all over the world.
Article Source :https://www.punchbowl.com/holidays/national-pumpkin-cheesecake-day