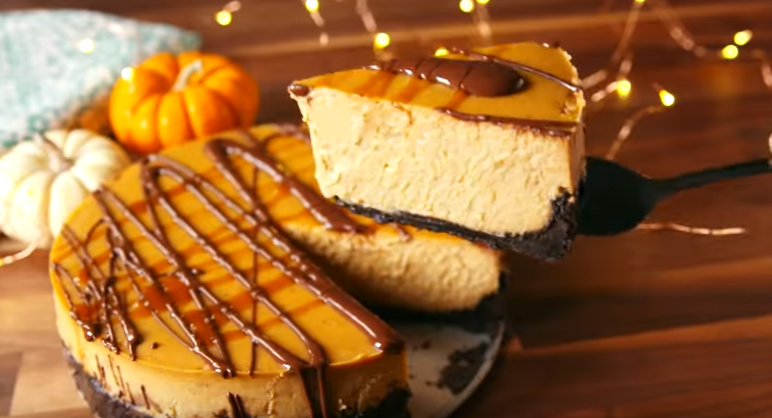 What a delicious looking cheesecake is this chocolate pumpkin one, I know there is a lot of pumpkin recipes around but I just had to share this one with you as it would be just perfect for that Holiday dessert as it looks so creamy and inviting which will make your guests  mouth water when you start to cut into this dessert which of course just has to be cut at the dinning table for maximum affect
This great recipe has been brought to you by Delish on YouTube, thanks for sharing it with us
Here below is the recipe and the video tutorial both from the YouTube channel
DIRECTIONS
1. Preheat oven to 350º and position an oven rack in the middle of the oven. Make cheesecake: In a large bowl using a hand mixer or in the bowl of a stand mixer using the paddle attachment, beat cream cheese until smooth. Add pumpkin purée, eggs, sugars, sour cream, flour, pumpkin pie spice, cinnamon, and vanilla and beat until combined and no clumps remain. Set aside.
2. Make crust: In a large Ziploc bag or a food processor fitted with a metal blade, crush or blend Oreos until fine crumbs form. Transfer to a bowl and pour in melted butter. Stir until crumbs are completely coated and moist.
3. Coat a 9″ springform pan with cooking spray and press Oreo mixture into pan and 1/3 of the way up the sides, packing tightly. Pour cheesecake filling over crust.
4. Bake until cheesecake is only slightly jiggly in the center, 1 hour to 1 hour 15 minutes. (If you want to use a water bath to ensure cheesecake top does not crack, wrap the outside of the pan in aluminum foil and place in a baking dish. Place on oven rack and pour in enough boiling water to reach halfway up the pan. Follow baking instructions.)
5. If using a water bath, remove pan from water and unwrap foil. Refrigerate cheesecake until totally chilled, at least 4 hours and up to overnight.
6. When ready to serve, drizzle with melted chocolate and caramel. Serve with whipped cream or Cool Whip, if desired.
INGREDIENTS
3 8-oz. blocks cream cheese, softened
1 15-oz. can pumpkin purée
4 large eggs
3/4 c. sugar
1/2 c. light brown sugar
1/4 c. sour cream
2 tbsp. all-purpose flour
1 tsp. pumpkin pie spice
1/2 tsp. cinnamon
2 tsp. vanilla extract
FOR OREO CRUST
24 whole oreos
6 tbsp. melted butter
FOR SERVING
1/3 c. semisweet chocolate chips, melted
1/4 c. Caramel
Whipped cream or Cool Whip, for topping