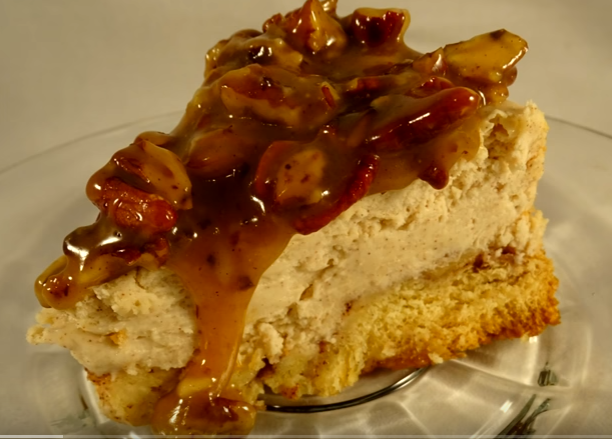 I love a good cheesecake so when I found this cinnamon bun one I was really intrigued about it as it does so rather yummy don't you think?
A really amazing dessert to serve at that dinner party, I think your guests will love it as it is something different than the normal cheesecake .. so yummy
This great recipe is brought to you by yoyomax12 – the diet free zone on YouTube , thanks for sharing it with us
Here below is the recipe and the video tutorial from the YouTube channel
Ingredients
1 can (17.5 oz) Pillsbury™ Grands!™ cinnamon rolls
2 packages (8 oz each) cream cheese, softened
1/2 cup sugar
1/4 cup whipping cream
1 teaspoon vanilla
1/2 teaspoon ground cinnamon
2 eggs
Grease a 9″ springform pan.
Cut the cinnamon rolls (dough) in half lenghtways to make two thin cinnamon buns with each.
Press them into the bottom of the pan.
Spread frosting that came in the package over the buns.
Set aside
Blend together the cream cheese, sugar, cream, vanilla, cinnamon, vanilla and eggs. Blend until smooth and pour over cinnamon bun base.
Bake at 325F for 40 minutes or so until edges are set and the center jiggles slightly.
Allow to cool for and hour and then refrigerate for several hours.
Topping:
Toast the pecans in the oven at 350 F for about ten minutes until brown and fragrant. Remove from oven and allow to cool and then chop up roughly.
In a saucepan place brown sugar, butter, whipping cream and salt. Cook over medium heat and bring to a boil. Boil for 3 minutes until thickened slightly. Allow to cool and then stir in pecans. Serve over cheesecake!
Topping:
1½ stick unsalted butter
¾ c. brown sugar
½ c. heavy cream
¼ tsp. salt
2 c. pecans