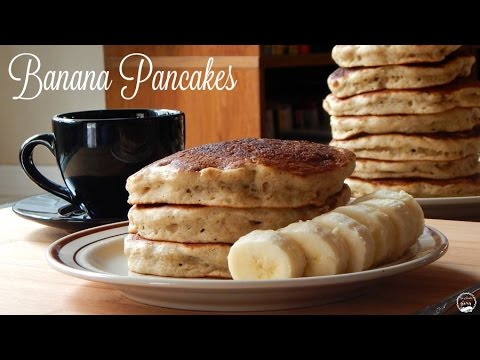 I love pancakes for breakfast or brunch and bananas are really good to have to eat to start the day off with a burst of energy so I was so pleased when I found this recipe for banana pancakes .. they look so good so I could not just pass this recipe by without sharing it with you all
This great recipe has been brought to you by The Sweetest Journey on YouTube, thanks for sharing it with us
Here below is the recipe and video Tutorial both from the YouTube channel
Ingredients:
1 1/2 Cups All Purpose Flour
3 Tablespoons Sugar
2 Teaspoons Baking Powder
1 Teaspoon Salt
1 Teaspoon Baking Soda
1 Teaspoon Cinnamon Powder
2 Ripe Bananas
1 Cup Milk
1 Tablespoon Butter, Melted
1 Teaspoon Vanilla Extract
*Makes 8 to 10 medium sized pancakes.
Directions:
1. In a bowl, whisk together flour, sugar, baking powder, baking soda, salt, and cinnamon; set aside.
2. In another bowl, mash the peeled bananas until smooth. Whisk in milk, butter, and vanilla extract until well incorporated. Gently fold dry ingredients into banana mixture, only until combined and leaving small lumps.
3. Prepare a pan with cooking spray or butter. Spoon batter onto pan and cook over low to medium heat.
4. (Optional) After cooking each pancake, spread butter over top.