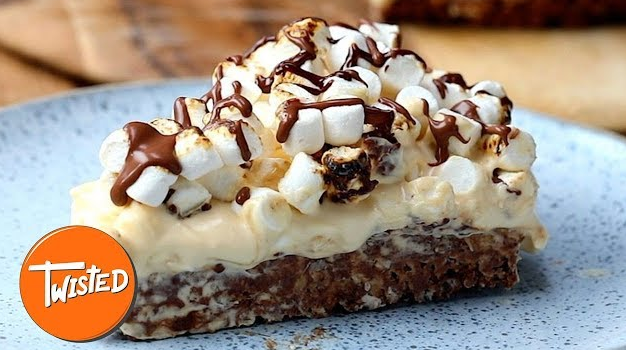 This dessert has all the ingredients of everyone's favorite childhood treat. This sweet and creamy treat is so simple to make and you won't need to bake it, it's the perfect treat. Easily serve 8-12 kids with generous portions.
This brings me back to my childhood when we had a sleepover and my friend's mother brought this delicious and sweet dessert. Today, I'm taking it to the next level and you can surprise your kid and their friends with this amazing dessert.
This recipe uses chocolate sauce to drizzle on top of the cake, but if you want to use something else, please do. I usually put the topping after I portion the cake because my son loves chocolate and my daughter loves cinnamon. The perfect dessert for everyone.
Ingredients for Rice Cereal Marshmallow Cheesecake
3 1/2 ounces crisp rice cereal
5 1/2 ounces marshmallows
3/4-ounce butter
1 3/4-ounce dark chocolate
14 ounces cream cheese
3 1/2 ounces mascarpone
1 1/4 cups double cream
7 ounces soft toffees
4 1/3 ounces icing sugar
3 1/2 ounces mini marshmallows
3 1/2 ounces dark chocolate (chopped)
1/2 cup double cream
How to Make Rice Cereal Marshmallow Cheesecake
First, prepare a springform cake tin, grease, and line the bottom with a circle of baking parchment.In a large saucepan, melt the butterthen add the marshmallows and the dark chocolate, stir until all melted and gooey on low heat. Remove from heat and then add the rice cereal and stir to combine.Using an oiled spatula, press into the springform cake tin and put to one side to set for 30 minutes.In a pan, melt the toffees then add to the cream and whisk to combine. Set aside to cool.
In a large bowl, add the cream cheese, mascarpone, and icing sugar. Whisk until totally smooth, with an electric beater on medium speed then add the double cream and melted toffee mix, whisk until the mixture is thick – about a few minutes on low speed.Over the rice crispy base, spread the mixturethen put in the fridge overnight to set.
In a saucepan, heat the cream until steaming and once hot, in a heatproof bowl, pour over the remaining chocolate and leave to stand for about 5 minutes, then stir to combine into a glossy sauce. With the remaining marshmallows, pile the top of the cheesecake and blowtorch to caramelize the tops, drizzle with the chocolate sauce, carefully remove the cheesecake from the springform tin and serve.
To see the original recipe that inspired this one, check out the recipe for Rice Cereal Marshmallow Cheesecake found at Twisted.