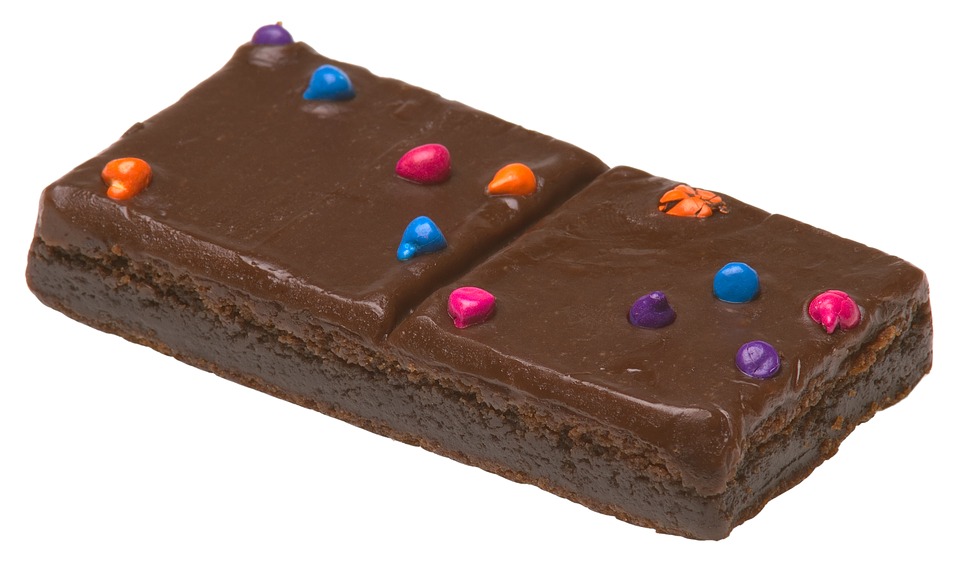 How to make homemade Cosmic Brownies… A  childhood favourite ,they're delicious….Let's get started with the ingredients you  will need
 Ingredients 
¾ cup of All Purpose Flour
¾ cup of Unsweetened Natural Cocoa Powder
1 tsp of Baking Powder
½ tsp of Salt
1 tsp of Instant Espresso Powder
¾ cup of Unsalted Butter, melted
¾ cup of Granulated Sugar
¾ cup of Brown Sugar
2 Eggs
1 tsp of Vanilla Extract
¼ cup of Milk
 For the Glaze 
1-½ cups of Semisweet Chocolate Chips
¼ cup of Mini M&Ms
 Let make these brownies ….
Preheating  your to 350F and I have a 9 by 13 inch baking pan that is sprayed with non stick spray, lay the bottom with a sheet of parchment paper just because it makes it easy to get them out and I don't know if this will matter to many of you but I have found that using a glass pan really makes a difference, I find that they bake a lot more evenly so that is why I'm using a glass pan, but you could use metal of course and it'll be just fine.
In a large bowl,  place  in both kinds of sugar,  add  the eggs and a good splash of vanilla extract, make sure you shake your vanilla, Now you know, cosmic brownies, classic childhood treats, they're not super thick brownies, which I think makes a difference in this recipe that is it better  to use a 9 by 13 instead of a 9 by 9.
Whisk these together because you want the mixture to be really nice and smooth, now add the  milk, the butter, and all of the dry ingredients, real simple, just make sure to give your dry ingredients a quick little mix, not too much because it's going to end up getting thoroughly combined. Just add that right in. I'm telling you these are so good you're not going to know what to do with yourself !
Mix it until combined and that's pretty much it. That looks and smells unbelievably good. Okay, then just place the mixture into your prepared pan, just even out the top, to make sure it's nice and even, and these are just going to go into the oven at 350F for about twenty to twenty five minutes, basically you just want to make sure that the brownies look set when you just gently press with your fingers you want them to feel set but still have a little bit of squidginess, you don't want them to feel completely set because you've over baked them and then they get a cakey texture which is still delicious but it's not that deeply dense and fudgy brownie that we love so much.
Now to make the topping for the brownies, all you need is some semi sweet chocolate chips and some hot heavy cream,  just placed it in the microwave for 30 seconds until it was nice and hot. You pour the cream over the chocolate chips, and I just kind of sink the chocolate chips into the cream and let them sit for a couple of minutes until they pretty much melt….set aside once the brownie base is perfectly cooled and ready..squidgy just a little tiny bit and it's not hard  which is perfect.
For the topping you're going to need some mini chocolate coated candies, I just like to use mini M&Ms, I think they're perfect for this but if you wanted to do the walnut version you would just add about a half a cup of chopped walnuts in the batter and then sprinkle some walnuts on top and you'd have the walnut version. So whatever tickles your fancy.
Once the chocolate chips are already melted,  go ahead and start to give them a stir, the glaze  will be nice and smooth, and even though it might not seem like it will be, it will be just trust me. You've just gotta keep at it and the more you stir, the smoother the chocolate will be. And it works out really nicely and that way you don't have to worry about tempering chocolate.
Pour this gorgeous chocolate glaze lava onto your gorgeous brownie base.. make a nice smooth layer as evenly as you can manage,  scatter little candies over the top. And then pop them into the fridge to set … can you  can leave them at room temperature on the side of course if you prefer, once the chocolate coating is set we're going to cut and serve.
That's it! cosmic brownies  so rich and incredible
So good! Everything a good brownie should be. It's rich, dense, chocolaty, not overly sweet.