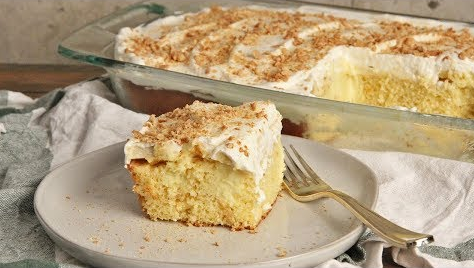 How many of you have dreamed of having a delicious banana cake made in less than an hour? With tasty and tropical bananas on top, rich vanilla pudding and some great homemade whipped cream, this banana poke cake recipe is the right thing for you!
The greatest thing of all is that it is light as air, and heavenly for those who enjoy bananas and light desserts. It is great as a dish for potlucks, BBQ dessert or just a regular Sunday cake that will surprise your loved ones. Once you will make this delicious poke cake, you will definitely fall in love and make it over and over again.
Served right away from the baking pan or just presented individually in serving plates this dish is a real showstopper and it pairs well with an afternoon tea or your daily cup of coffee.  Graham crackers are the prettiest part to this cake, it brings a little bit of crunch that you are going to love.
Ingredients for Banana Poke Cake 
For the vanilla sponge cake:
1 box vanilla cake mix
3 whole eggs
1 cup of milk
1/3 cup of melted butter
1 teaspoon of vanilla extract
For the vanilla pudding:
3 egg yolks
3 tablespoons of corn starch
½ cup of granulated sugar
pinch of salt
1 tablespoon of vanilla extract
2 ½ cups of whole milk
For topping:
3 sliced bananas
1 ¼ cup of heavy cream
¼ cup of powdered sugar
1 teaspoon of vanilla extract
few crushed graham crackers
How to Make Banana Poke Cake
Preheat your oven to 350 and grease generously 9×13 inch baking pan with butter or cooking oil. In a large bowl place in the vanilla cake mix, eggs, milk, melted butter and a teaspoon of vanilla extract. Mix well with wire whisk until well incorporated and smooth batter forms. Transfer this batter in the prepared baking pan and bake it for about 30 minutes.
Meanwhile, on a saucepan over medium heat preheat your whole milk, and in another bowl whisk together egg yolks, corn starch, granulated sugar, a pinch of salt and a tablespoon of vanilla extract. Pour in half of the heated milk into the mixture and whisk until combined. Bring the whole mixture back on medium heat and cook until it thickens, whisking constantly with a wire whisk. Strain the pudding mixture through the fine sieve and cover with plastic wrap, so you will prevent a skin forming while cooling for 20-30 minutes.
Poke holes all around the already cooled cake with a wooden spoon and pour in vanilla pudding. Spread it with a spatula and let it cool in the refrigerate for about several hours.
In a bowl of an electric mixer, whisk together heavy cream, powdered sugar and vanilla extract. Whisk until stiff peaks forms. Place in banana slices all over the vanilla cake over the pudding and spread whipped cream using a spatula. Sprinkle some crushed graham crackers.
To see the original recipe that inspired this one, check out the recipe for Banana Poke Cake found at Laura in the Kitchen.