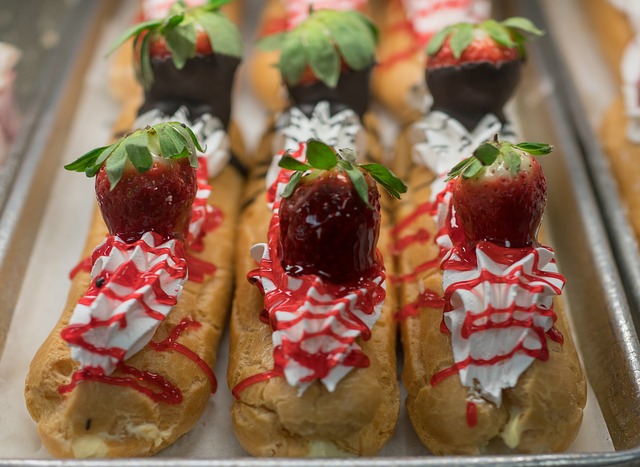 This is a staple Italian pastry that has to make an appearance on any Italian gathering, big or small. I know that because I'm half Italian and we really love our cannoli. You cannot have cannoli without ricotta cheese, and today, we're going to combine that with some fresh strawberries to make this delicious pastry. This recipe will make 6 cannoli that will be gone in seconds, so you better prepare batches of it.  
Being half Italian, my mother's cooking has a big influence on my cooking. Italians are proud of their cuisine, and my mother always taught me to give it my all when cooking Italian foods. Today, I dedicate this recipe to my mother and my family, and hopefully, it can bring joy to your family as it does mine. 
The ultimate pair for cannoli is a dessert wine, something sweet like port wine or Cabernet Sauvignon. If you don't want wine, you can always opt. for some coffee or espresso while adding some chocolate pieces, confectioner's sugar, or nuts of the filling. 
Ingredients for Strawberry Cannoli
15 ounces ricotta cheese
6 cannoli shells
½ cup powdered sugar
½ cup strawberries (diced)
¼ teaspoon almond extract
¼ cup mini chocolate chips
diced strawberries and mini chocolate chips (additional garnish)
How to Make Strawberry Cannoli
First, mix the ricotta, sugar, and extract well. Fold in the chocolate chips and strawberries. Allow the cheese mixture to sit in the fridge for at least 2 hours to overnight so the flavors can combine. Put the cheese mixture in a ziplock bag and then cut off a corner, or use a pastry bag. Pipe the cheese into the cannoli shells. 
Note: 
You can use smaller berries to get more of that bright red color.
To see other recipes for Strawberry Cannoli, check out:
https://www.runninginaskirt.com/strawberry-cannoli/ 
https://anitalianinmykitchen.com/strawberry-cannoli/ 
https://www.attagirlsays.com/easy-cannoli-recipe/