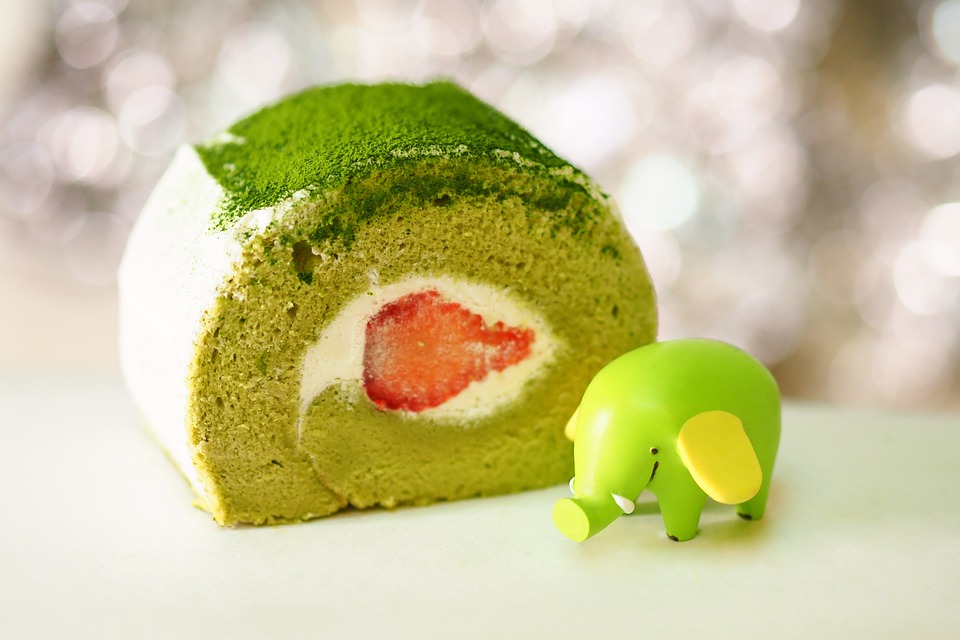 This gorgeous cake of green, red, and white is quite simple to make and only needs 6 ingredients to make. The perfect cake for a summer day with its earthy, not overly sweet taste that will definitely make everyone smile. Cut into 6-8 slices and if there are leftovers, which I highly doubt, this cake stores well in the fridge.
Roll cakes are everywhere nowadays, and there are so many variations to them, I have to admit I got a little confused whenever I want to buy one. So, I decided why not make them? With something that I know my husband and kids will love and enjoy. 
This cake is so colorful, but don't let that stop you from adding another color. We already have the red and green, why not add some blue with fresh chopped blueberries. Or chopped chocolate is always a welcome addition to any cake. 
Ingredients for Strawberry Matcha Roll Cake
Matcha Sponge Cake:
3 eggs
5 tablespoons granulated sugar
4 tablespoons cake flour
1 tablespoon Matcha (green tea) powder
Fillings:
100ml whipping cream
½ tablespoon granulated sugar
strawberries (cut in half)
How to Make Strawberry Matcha Roll Cake
Place the eggs and sugar in a bowl and beat on high speed using an electric mixer for about 10 minutes, until fluffy. Preheat your oven to 356F and line the pan with parchment paper. Sift in the cake flour and Matcha powder, half at a time, and mix on low speed with an electric mixer for 1-2 minutes until just combined. Pour the batter into the pan, and to raise the air bubbles out of the batter, drop it lightly on the counter.
Bake at 356F for about 12 minutes. Once done, drop the pan lightly to prevent shrinking. By lifting the parchment paper, remove the sponge cake from the pan and place it on a wire rack to cool. In the meantime, combine whipping cream and granulated sugar in a clean bowl. In ice water, float the bottom of the bowl and whisk the cream until firm peaks form.
Remove parchment paper when the cake is cool enough. Diagonally cut off one end of the sponge cake, then coat the surface with the cream evenly and place the strawberries. On the other side, place the cut side and roll up the cake. In parchment paper, wrap the cake and put it in the fridge to cool for 30 minutes to set. Using a sharp knife, cut to serve and enjoy.
To see other recipes for Strawberry Matcha Roll Cake, check out: 
https://www.sweetandsavorybyshinee.com/strawberry-matcha-roll-cake/
https://www.youtube.com/watch?v=tzugYxNMD4Y
https://www.thelittleepicurean.com/2014/03/matcha-green-tea-swiss-roll-strawberry-mousse.html