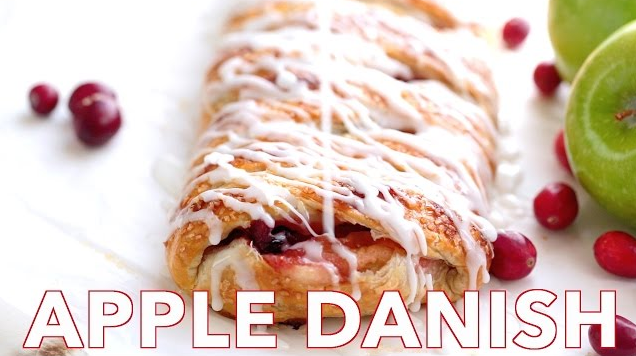 Some of you may know this but apple and cranberries are one winning combination that is perfect for everyone who loves autumn flavors.
If you are a huge fan of an apple or cranberry pie, this recipe is just made for you. You can taste the beautiful smell of the apples, rich flavor from the cranberries, also you can feel the buttery taste and crunchy and flaky puff pastry. A combination that is going to satisfy all of your taste buds.
You can also play with the filling ingredients, you can use peanut butter, or chocolate and cherries – another winning combination that people will go nuts!
Anyway, no matter what kind of filling you are going to use, you just need to roll out some puff pastry, spread some delicious apple and cranberry filling and shape it like a braid.
Trust me on this one, the beautiful aroma that is going to spread in the kitchen will bring all the family, together.
Ingredients for Apple Braided Danish 
For Apple Braid:
3 tablespoons butter
¼ cup granulated sugar
2 large apples, peeled, cored and sliced in ½ inch pieces
1/3 cup fresh or frozen cranberries
½ lb (250 g.) sheet of puff pastry
1 egg + 1 tablespoon of water for coating
½ tablespoon granulated sugar for sprinkling
For the pastry glaze:
1/3 cup powdered sugar
½ tablespoon whole milk
How to Make Apple Braided Danish 
Firstly, place a large pot over high heat and melt the butter. Add in sugar and apple slices and stir until well coated. Sprinkle the top with fresh or frozen cranberries and let it sit to caramelize. It will take about 5-7 minutes. Transfer the mixture to a plate and then let it cool.
Roll out the puff pastry on a lightly dusted work surface with flour. Roll it out a little bit and arrange the apple and cranberries filling down in the center of the rolled dough, leaving 1 ¼ inch at the top and the bottom. Cut out the top to corners and cut eight 1 inch strips on both sides of the pastry, keeping about half an inch away from the apple filling. Fold down the top flop and pinch to seal. Fold in the strips one by one alternating from left to right. When you get to the bottom fold up the bottom piece of dough to seal in with apples. Brush the  Danish braid with egg wash – beaten egg with water and sprinkle some sugar on top.
Bake the Braided Danish in an already preheated oven at 400 degrees F or 190 degrees C for about 20 minutes, or until golden brown and puffed up.
To make the pastry glaze combine powdered sugar with milk, whisk until smooth and drizzle it over the cooled Danish braid.
To see the original recipe that inspired this one, check out the recipe for Apple Braided Danish found at Natashas Kitchen.