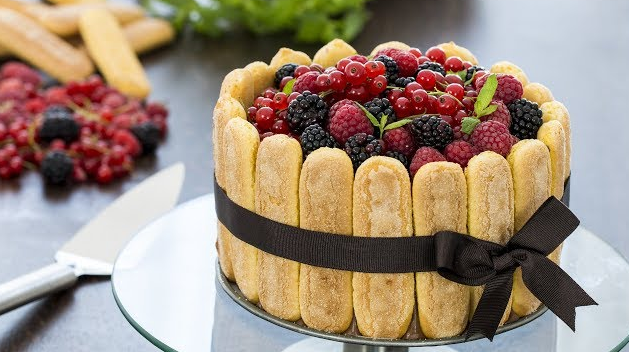 Charlotte Cake is a beautiful dessert that's perfect for holidays. But don't let its looks intimidate you, it's quite easy to make. Use a ribbon of your favorite color and wrap around the ladyfingers, which will make this cake more lovely and festive with the addition of berries. This can make about 8 to 10 servings.
I was on my way home from grocery shopping when I passed this new bakery shop close to my home. Just out of curiosity, I stopped by and just browse what they have when this gorgeous looking cake caught my attention. I bought a slice just to try it and needless to say, I was hooked.
This dessert is a perfect balance between the sweet ladyfingers, semisweet chocolate flavor, and tartness of the berry mousse. Definitely a winning dessert. You can add something extra if you like, I added a little sprinkle of cinnamon just because I love cinnamon.
Ingredients for Berry Charlotte Cake
BERRY SAUCE:
10 oz mixed berries (fresh or frozen)
1/3 cup sugar
2 tablespoons lemon juice
2 1/2 teaspoons gelatin powder
3 tablespoons cold water
MASCARPONE FILLING:
1-pound mascarpone (room temperature)
1 3/4 cup whipping cream (35%fat, chilled)
3 tablespoons powdered sugar
FOR THE CHOCOLATE FILLING:
5.5 oz semisweet chocolate
1/3 cup whipping cream
1 teaspoon gelatin powder
1 tablespoon water
How to Make Berry Charlotte Cake
Before preparing the mascarpone filling, prepare the berry sauce so it has time to cool. In a small saucepan, place the berries, sugar and lemon juice and place over medium heat. Bring to a simmer, stirring occasionally until the sauce thickens (about 15 minutes). Remove from heat and sieve to remove the seeds.
Prepare the gelatin; dissolve the gelatin in cold water and let it swell for about 5-10 minutes. Over low heat, place the gelatin just until dissolves and then pour it over sieved berry sauce. While you prepare the rest, let cool to room temperature. Line an 8-inch (20 cm) round springform pan with parchment paper and line the edges and bottom of the pan with ladyfingers. Cut the ladyfingers to fill the gaps if necessary.
Prepare chocolate and berry mousse fillings; in a heatproof bowl, place chocolate and cream over a pan with simmering water and melt over low heat. Put gelatin in cold water and let it bloom for about 10 minutes and then dissolve it over low heat and then pour it over the melted chocolate.
Mix mascarpone with powdered sugar in a large mixing bowl until combined. Whip the whipping cream until stiff peaks form, in another bowl. Incorporate whipped cream gradually into the mascarpone mixture and divide the mascarpone mixture in two. Mix 1/2 of the mascarpone mixture with melted chocolate and pour it over the bottom of the pan and then put berries of your choice. Refrigerate for about 15 minutes or until it sets.
Mix the other half of the mascarpone mixture with berry mixture and pour it on top of chocolate mousse. Refrigerate for about 6 hours or overnight. Decorate with a ribbon and fresh mixed berries.
To see the original recipe that inspired this one, check out the recipe for Berry Charlotte Cake found at Home Cooking Adventure.