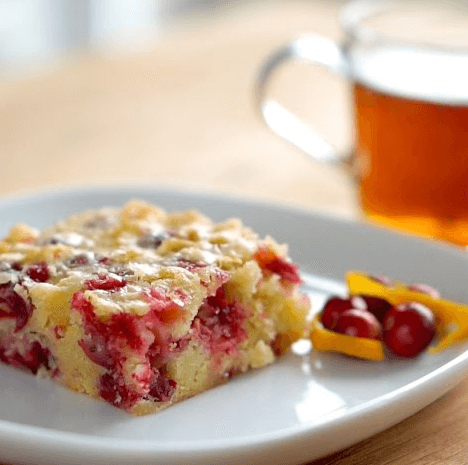 Cranberry season is coming and this is the cake for it. It has a perfect balance of sweet and tart that just taste amazing. And it's so easy to make too and you can serve it in no time. Bring it to a friend's party or serve it on a weekend lunch, I guarantee everyone will love it. You can serve 10 generous slices of this delicious dessert with this recipe.
I made this dessert the other day and brought it to my best friend's party and guess what? Everyone enjoyed it, especially my best friend because I know that she loves cranberries.
I added some dried fruit on top to complete that sweet and tart taste, but you can add something of your own too, don't be afraid to try and make this dessert a special treat for your family.
Ingredients for Cranberry Orange Cake
3 large eggs
2 cups granulated sugar
3/4 cup unsalted butter, softened
1 teaspoon vanilla extract
¼ teaspoon  salt
zest of 1 orange
2 cups all-purpose flour
12 ounces fresh cranberries
How to Make Cranberry Orange Cake
First, preheat your oven to 350 F. Combine the eggs and sugar in the bowl of a stand mixer using the whisk attachment. Whip for about 3-5 minutes, until the eggs have turned pale yellow and the mixture has more than doubled in volume and thickened. Add the butter, vanilla, salt, and orange zest and mix to combine. With a spatula, stir the flour in then the cranberries. Stir to mix.
Grease your 9×13 baking pan with cooking spray and then pour the mixture. Bake for 45 to 50 minutes until top is brown and when an inserted toothpick comes out clean. Cut into 16 squares, serve and enjoy.
To see the original recipe that inspired this one, check out the recipe for Cranberry Orange Cake found at TipHero.