***Every cookie that I'm showing you today is egg-free***
Okay, the first one we're going to make is a three ingredient buttery shortbread.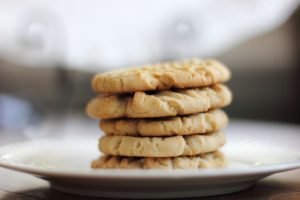 Ingredients:
1 cup ( 8oz/240g) ) butter, room temperature ( if you want to use an alternative you can use a hard baking margarine but NOT the spreadable type )
½ cup (2oz/60g)) powdered sugar, sifted
2 cups (10oz/300g)) all purpose flour
What we do:
In a large bowl, add in some room temperature butter, and some icing sugar. And then cream these two ingredients together well.
Okay so here's a tip: make sure your butter is at room temperature so it creams really easily with your sugar.
Once everything is mixed up, now we're going to add in our flour. Then take your mixer or your spatula, and then just mix in the flour.
Now remember you don't want to beat flour too much or it'll make your cookies tough, so just until it's combined. Now you will see that it gets a little bit soft and crumbly, but this is exactly what it's supposed to look like, because we're going to bring this together with our hands on some cling wrap.
So get a nice big piece of cling wrap, and just take the cookie dough, and turn it out onto the cling wrap.
Then once it's all out there nice and even, form a log or something that kind of looks like a sausage.
So we're going to make it into a roll and then we're gonna pop it into the fridge until it firms up and then it's ready to bake.
I am going to cut these slices around ¾ of an inch thick, which is a pretty thick cookie. One question I get asked a lot is can you freeze these cookie doughs, and yes, they freeze perfectly. And then they just bake them off and they're ready to go. Okay, great. Now these are all sliced, I'm just going to pop them on to a tray lined with parchment paper.
If you want to give them a little bit of a shape with your fingers you can, too. The one thing about these cookies it's not only three ingredients, it's that they're so fast to make. So you can whip them up in no time. Bake your cookies off at 350 degrees Fahrenheit, or 180 degrees Celsius for roughly 15 minutes until they're a light golden brown.
So not only do these cookies look gorgeous, but they actually smell amazing, my whole kitchen smells like butter and sugar and yummy things. So now you want to let these cookies cool for a little bit, but once they do, you can give them a taste.
You know what? Sometimes it is the simplest of recipes that yield you the best results and these are fantastic, they're crumbly, they're buttery, a little mouthful of heaven.
Now  we're going to move on to a three-ingredient coconut cookie.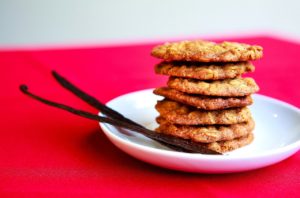 Ingredients:
2 cups (6oz/180g) shredded coconut
2 tablespoons granulated sugar
¼ cup (2floz/60ml) coconut milk
What we do:
So now if you can believe this, the next cookie that we're going to make is even simpler than the last.
Into a large bowl, add in some shredded coconut, now you can use unsweetened coconut or sweetened, that's up to you, I prefer to use unsweetened, because then the next thing is to add in a little bit of sugar. To add sweetness to our cookies.
So the next ingredient we're going to add in is some coconut milk. Not coconut water or cream, coconut milk. And this is going to bind our cookies together. You'll notice that there's no eggs in here, there's no flour, they're gluten free as well.
Now all you want to do is just stir mix really well together. Don't worry, I know it looks like I only put a tiny bit of coconut milk in here, but as you stir, keep on mixing, the coconut will moisten and it will all form together in a big dough. This is what we're looking for. I can't get over how fast it is to make this cookie.
So to shape your cookies take a tablespoon and just get a nice scooped heap of your cookie, then just shape it in your hand until it's kind of round. And then pop it onto your baking tray lined with parchment paper. Just continue doing this with all of your cookies.
Then pop these into the oven. Bake your coconut cookies off at 350 degrees Fahrenheit or 180 degrees Celsius for roughly 15 minutes. When your coconut cookies are out of the oven they look so sweet, and smell lovely. Kind of like a tropical flavor. So you want to let these guys just sit on your tray, cool down and they'll firm up and then they're ready to eat.
Once they have cooled down you get to taste them. They taste like a macaroon. But with like double coconut, because of the coconut milk, and the shredded coconut, these are to die for.
We're going to go ahead and move on to our next cookie, which is chocolate and banana.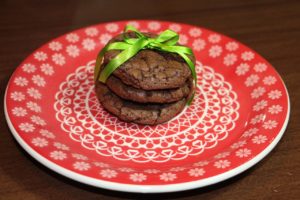 Ingredients:
3 large ripe bananas,(4oz,120g) or so each, mashed.
½ cup (4oz/120g) creamy peanut butter
½ cup (2oz/60g) cocoa powder, sifted
What we do:
In a large bowl, add in your bananas. And then mash them really well with a fork. Now I know this looks like a lot of banana but they're actually replacing the eggs in this recipe so you do need a lot.
Once they're all smushed up , we're going to add in the rest of our ingredients. So in this cookie there isn't any flour either, so what we're going to add in is cocoa powder, which obviously is flourless, and it makes your cookies really lovely and rich. And then to follow that, peanut butter.
So go and add that in there. And these actually are kind of high protein cookies as well, so they're good for you, and they taste good too.
Then all you want to do is mix these all together until your dough is formed. Okay , now scoop it onto your baking tray. So with two teaspoons, go ahead and scoop a nice, big, generous heap of your cookie dough, and then place it onto your baking tray. Just try and get them as round as you can.
And then just keep on going scooping and smashing. These cookies make around 12 and they're nice and generous. The one thing about these cookies is that they don't bake crisp, they actually end up being quite soft, because of all the banana in them, so you're going to store them in an airtight container for around two days, whereas the other cookies would last longer.
Okay so now I know they might not be a lot to look at right now, but when we pop them into the oven they're going to come out lovely. Bake these cookies off at 350 degrees Fahrenheit or 180 degrees Celsius for roughly 15 minutes. When these chocolate and banana cookies are done and they smell amazing. And they don't really change their shape, they just stay the same but they get a little bit darker.
It just goes to show you with three simple ingredients you can make an array of cookies, from rich chocolate to a buttery shortbread to a tropical coconut, there's something here for everybody. I really hope you enjoy this recipe and if you did, please tell a friend.