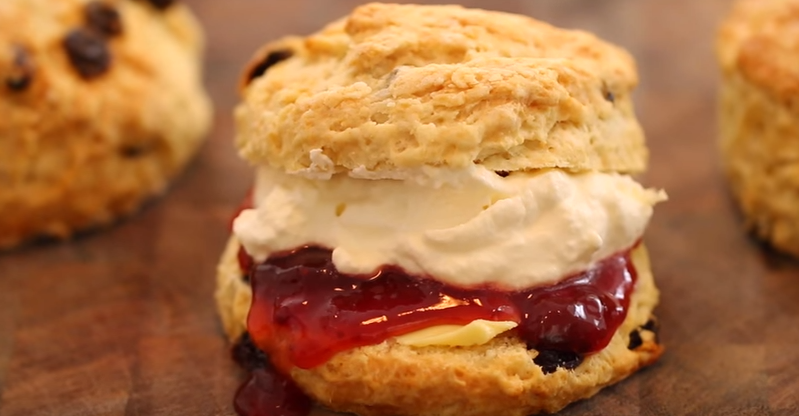 Seeing as today is St Patricks Day and National Eat Like An "Irishman" Day I had to come out with an amazing baking treat for you and I found this one from Gemma Stafford, these Irish scones look so good that this recipe was the one that I choose for Today
This great recipe is like I said from Gemma Stafford on Bigger Bolder Baking on YouTube  , thanks for sharing this amazing recipe with us 
Here below is the recipe and the video tutorial to watch both from the YouTube channel
INGREDIENTS
3 ½ cups (1 lb/ 16oz ) Flour (all purpose/plain)
5 level tsp Baking powder
1 Generous pinch Of salt
¼ cup (2 oz/60g) white sugar
1 stick (4 oz/ 125g) cold salted Butter,
1 Whole egg
2 oz Double cream
7 oz whole milk
Milk to glaze
METHOD
1. In a large bowl mix the dry ingredients together
2. Rub in the cold butter with your fingers until it resembles breadcrumbs.
3. If adding dried fruit eg. Raisins, berries, citrus rind, chocolate chips add them now before you add liquid
4. Mix your egg with the milk and cream and pour into your flour mix (if you don't have cream you can use only milk)
5. With an open hand mix loosely your scone mix until your dough forms. The bowl should be clean from the dough
6. Turn your dough onto a floured work surface
7. Knead lightly to give your dough a smooth surface
8. Pat your dough down with your hand until around 1 inches thick
9. With a scone cutter cut out your lovely little scones. You will have around 12
10. Put on a baking tray, glaze the tops of your scones with some milk to give them a golden top when baked
11. Bake at 350oF (18OoC) for 35 minutes.
12. Enjoy with Irish butter, jam and freshly whipped cream. Scones are best eaten the day they are baked but the next day you can pop them back in the oven to freshen them up again.

March 17 is National 'Eat Like the Irish' Day
Interesting Food Facts about Irish Cuisine
In 2010, the average Irish person aged 15+ drank 11.9 litres of pure alcohol, according to provisional data. That's the equivalent of about 44 bottles of vodka, 470 pints or 124 bottles of wine.
There is a famous Irish dessert known as Drisheen, a surprisingly delicious black pudding.
Traditional dishes include Irish stew, coddle, and Irish breakfast.
The leprechaun, famous to Ireland, is said to grant wishes to those who can catch them.
The first fish and chips was served in Dublin in the 1880's by Italian imigrants.
Article Source :http://foodimentary.com