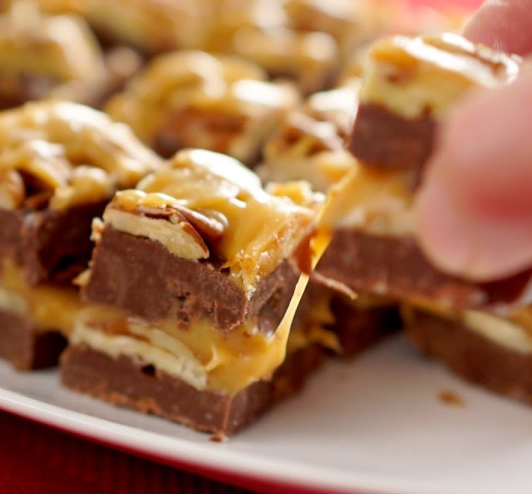 This is it! A yummy and super easy recipe for you to try at home when you don't have a lot of time. The ingredients are probably already therein your kitchen. All you need to do is melt and chill, and you're done. This is a perfect treat for the whole family at weekdays dinner and it's enough for a family of 4, about 12 servings.
I want to make something different and not store-bought for dessert the other day, but I also don't feel like doing the whole baking thing.I came up with this recipe and did a little modification of my own and guess what, everyone loved it.
Sometimes a simple treat goes a long way, you don't always have to make/bake something for hours, especially when you have house chores here and there. The caramels are my personal touch because everyone in my family loves caramel. You can add something that your kids love, ice cream on top, drizzle some honey, it's all up to you.
Ingredients for Turtle Fudge
2 cups semi-sweet chocolate chips
1 cup milk chocolate chips
14 oz can sweeten condensed milk (about 1 ¼ cups, divided)
3.5 oz marshmallow cream
1 teaspoon vanilla extract
8 oz unwrapped caramels
2 cups whole pecans
How to Make Turtle Fudge
Prepare an 8×8 pan and line with parchment paper. Combine the milk and dark chocolate chips in a large saucepan with 1 cup of the sweetened condensed milk over medium heat. Stir the mixture for 5 to minutes until the chocolate melts and you have a smooth consistency. Remove from the heat and then add the marshmallow cream and vanilla. Into the baking pan, pour 1/2 of the fudge and set aside the rest for later. Across the top of the fudge, sprinkle 1 cup of the pecans evenly and press them into the chocolate so they will stick.Place the pan in the refrigerator for 1 hour or 15 minutes in the freezer.
Combine the caramels and the ¼ cup of remaining sweetened condensed milk in a microwave-safe bowl. Microwave until melted and smooth (1-2 minutes). Over your fudge layer, pour the caramel evenly, reserving 2 tablespoons for drizzling on top. To set up, place in the freezer for 15 minutes. Re-heat the remaining half of the chocolate fudge over low heat. Stir until smooth and spread it over onto the caramel layer.Melt the reserved caramel and drizzle over the top of your fudge. If desired, sprinkle with flaky sea salt.Before cutting, refrigerate for at least 2-3 hours, slice into even squares and serve immediately.
To see the original recipe that inspired this one, check out the recipe for Turtle Fudge found at TipHero.