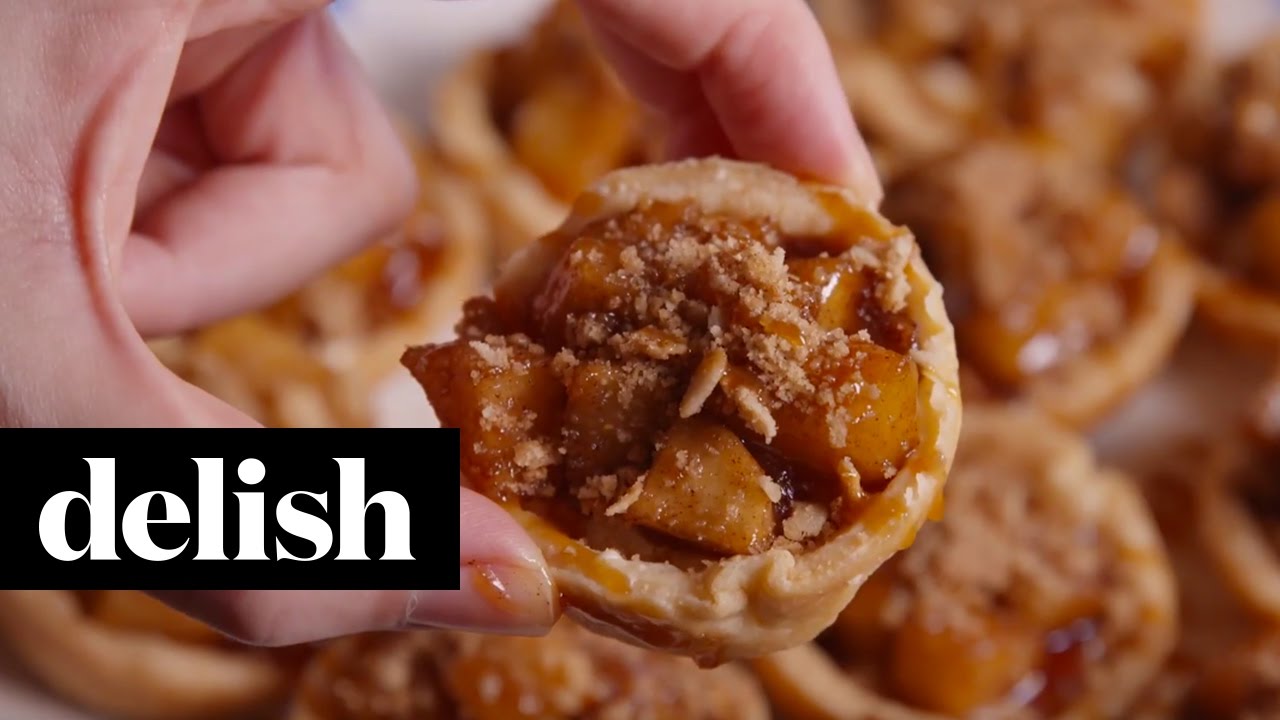 I have been looking for some recipes that would be just perfect for Thanksgiving to make for family or friends so how about this amazing recipe for  , Apple Crisp Cheesecake Bites so delicious to have for that Thanksgiving dinner party …sounds heaven
A really nice recipe that is easy to make so why not check it out in time for the holidays
This great recipe has been brought to you by delish.com website and Delish on YouTube , thanks for sharing it with us
Here below is the recipe and the video tutorial both from the YouTube channel
DIRECTIONS
1. Preheat oven to 350 degrees F.
2. Cut out the pie crust using the mouth of a large glass (press the glass mouth-side down onto the rolled-out crust, twisting to create mini crusts). Place pie dough discs in the wells of a greased muffin tin. Bake until lightly golden, 8 to 10 minutes. Set aside to cool.
3. Make the cheesecake filling: Beat cream cheese until light and fluffy. Slowly beat in sweetened condensed milk and vanilla, scraping down the sides as necessary, until combined. Spoon filling into pie cups, filling 2/3 of the way. Refrigerate until set, about 1 to 1 1/2 hours.
4. Make the apple topping: Sauté apples in butter, brown sugar, and cinnamon until softened, about 3 to 4 minutes. Add cornstarch, stirring until combined (this will thicken the sauce). Spoon sautéed apples into each cheesecake cup, filling it to the top.
5. Top each with crumbled cookies and a drizzle of caramel sauce.
INGREDIENTS
CHEESECAKE FILLING
2 (8-oz.) packages cream cheese, softened
1 (14-oz.) can sweetened condensed milk
1 tsp. vanilla extract
APPLE TOPPING
3 apples, diced
3 tbsp. unsalted butter
1/3 c. brown sugar
1/2 tsp. cinnamon
1 tsp. cornstarch
5 oatmeal cookies, crumbled
Jarred caramel sauce, for drizzling