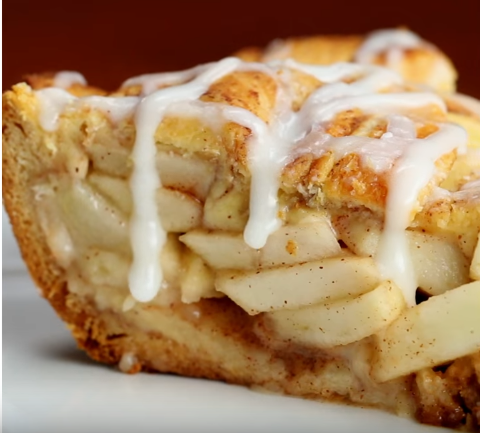 Impress your family or guests on dinner or any special occasion with this Cinnamon Roll Apple Pie that brings two classic desserts we've known in one delicious bite.

Granny Smiths apples are commonly used in apple pies because they have firm flesh and a bit of tartness in them, but feel free to use any variety of apple you want.

Ingredients
5 Granny Smith apples, sliced thinly
1/2 cup sugar
1 teaspoon cinnamon
1 tablespoon cornstarch
2 cans cinnamon rolls

How to Make Cinnamon Roll Apple Pie

Preheat the oven to 350°F and grease the pie plate with cooking spray.

Combine sliced apples, sugar, cinnamon, and cornstarch in a large bowl and mix well.

Slice each cinnamon roll in half and roll them out on a lightly dusted working surface. Make the pie crust by layering half of the flattened cinnamon rolls in the bottom of the pie dish. Pour apples into the crust and cover them with the remaining cinnamon rolls.

Cover the pie with aluminum foil and bake for 35 minutes. Remove the foil and bake the pie for another 10 minutes until golden brown. Allow the pie to cool down and drizzle the icing that comes with the cinnamon rolls.

To see the original recipe that inspired this one, check out the recipe for Cinnamon Roll Apple Pie found at Tasty.