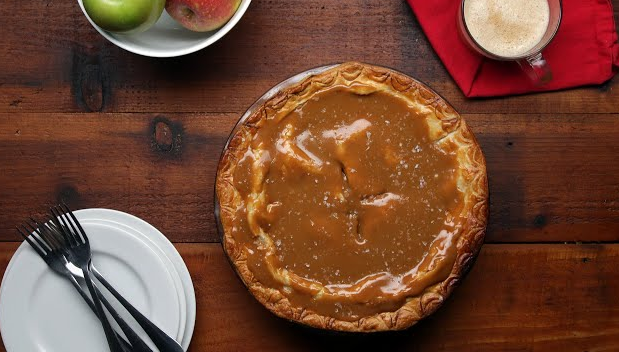 The best ever salted caramel apple pie is cozy, easy to make, flavorful recipe is filled with juicy apple slices, salted caramel sauce, and a perfect crust with the flaky texture. The recipe can be made for any special occasion party or even in your simple routine. The caramel sauce, crust and soft apple slices blend in a superb way and compliments each other. The apples used in the recipe make it really a healthy dish and rich in mineral nutrients. The ingredients are simple, and you can easily find them in your kitchen or refrigerator. The recipe is the best to serve eight family members.
The salted caramel apple pie is my grandma's favorite dish. She is a great cook, and I learned most of the recipe from her. The pie is so good, and if you want to impress your family with your delicious cooking, then this is the right choice. The dessert is so magnificent and wonderful that I can eat it any time of the day. Your kids and family will also like this delicious recipe.
The salted caramel apple pie can be presented in a simple dish with some apple slices or maybe some walnuts to make it more healthy. The preparation time of the apple pie is 1 hour and 60 minutes.
Ingredients for  Salted Caramel Apple Pie
8 apples thinly sliced
3 tablespoons lemon juice
1/4 cup flour
2/3 cup granulated sugar
2 1/2 teaspoon ground cinnamon
1/4 teaspoon ground nutmeg
2 Pie crust
Salted Caramel Sauce
3/4 cup heavy cream
3/4 light brown sugar
2 tablespoons honey
3 tablespoons unsalted butter
Sea salt or normal salt
How to Make Salted Caramel Apple Pie
Preheat oven at 190˚ C (375˚ F). Take a large bowl and mix apples, lemon juice, flour, sugar, ground cinnamon, and ground nutmeg together. Take 9" pie plate, grease it with oil or non-stick spray and cover the whole bottom and sides of the pan with 12" pie crust. Then add the apple mixture on the crust and next nicely cover it with the other pie crust. Cut the uneven sides of the crust and join the crust corner by pressing them with a spoon. Draw a cross in the middle of the pie and apply egg wash on the top with a brush. Bake the apple pie in a preheated oven for 50-60 minutes.
Prepare caramel sauce by adding heavy cream, light brown sugar, and honey in a saucepan on medium heat. Continue stirring at medium heat and then add unsalted butter. Let it simmer for 15 minutes until the mixture becomes thick. Cool the sauce for five minutes and pour it at the top of baked apple pie. Spread the sauce fairly. Sprinkle some sea salt or regular salt at the top.
Enjoy this delicious salted caramel apple!
To see the original recipe that inspired this one, check out the recipe for Salted Caramel Apple Pie found at Tasty.