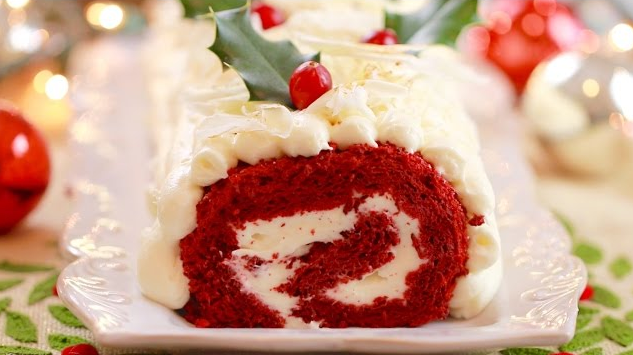 For all the red velvet fans out there, today I have a real surprise for you.
We all know that Red Velvet Cake is the perfect cake to make for Thanksgiving, Halloween, and Christmas. It is such an impressive cake, but I think it will be impressive even more if you make it gluten-free and instead of cake you roll up some roulade out of it.
It will still look impressive, just like Yule log for Christmas, but a red version of it. Loaded with cream cheese frosting, this roulade is perfect for the ones who like to show off in front of the guest.
In a matter of fact, roulades are very easy to make and the main and only problem that can occur is rolling the roulade and cracking it. But don't worry in this recipe I share a foolproof technique on how you can avoid it.
Impressive red velvet roulade with creamy and yummy cream cheese frosting is the best combinations that you can make for the holidays. The best part of it is that you can use this dish as a centerpiece on the table.
Let's go cooking!
Ingredients for Gluten Free Red Velvet Roulade 
For the red velvet roulade:
6 large eggs, at room temperature
¾ cup (125g) granulated sugar
2 teaspoons vanilla extract
2 tablespoons red gel food coloring
1 teaspoon of cinnamon
⅓ cup (25g) cocoa powder
¼ cup (25g) cornstarch
For the cream cheese frosting:
2½ cups (540g) sifted powdered sugar)
1 lb (454g) cream cheese, at room temperature
½ cup (112g) butter, at room temperature
1 tablespoon vanilla extract
How to Make Gluten Free Red Velvet Roulade 
Preheat the oven to 350 F or 180 C degrees.
To make the roulade, in a bowl of an electric mixer place in the eggs and sugar. Whisk together on high speed until eggs grow five or six times in volume. It will take you around 5 minutes on high speed. Add in vanilla extract and red gel food coloring.
In the same bowl, add in cocoa powder, cinnamon, and cornstarch. With the help of a huge spoon or a spatula fold in the dry ingredients in the beaten egg mixture. Be careful not to over mix the batter. Pour mixture into an 11×13 inch tin lined with baking paper. Bake for just 10 minutes.
When it comes out from the oven use the edges of the baking paper and then roll the cake a little on all edges. Let it cool completely.
To prepare the cream cheese frosting, in a bowl of a stand mixer, whisk in the cream cheese, butter, and vanilla extract. Whisk on medium-high until well combined and gradually add in powdered sugar until well incorporated, smooth and yummy.
Spread the frosting on cooled red velvet cake and smooth even with the help of a spatula. Again, with the help of the baking paper start rolling the roulade. Transfer a little bit of the frosting in a piping bag and decorate the whole red velvet roulade. Cut slices and enjoy.
To see the original recipe that inspired this one, check out the recipe for Gluten Free Red Velvet Roulade found at Bigger Bolder Baking.