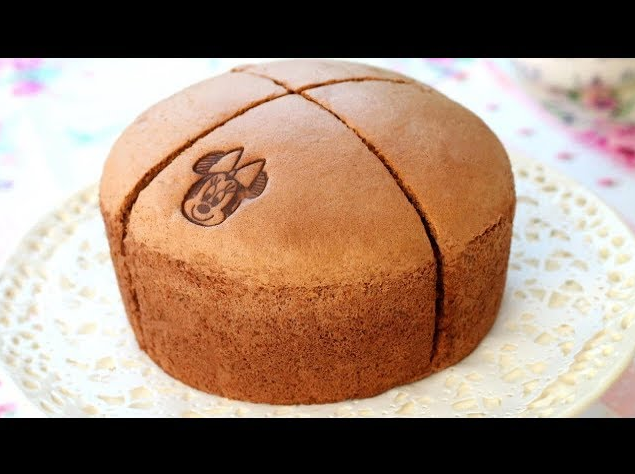 Japanese cotton chocolate sponge cake is a delicious and a dazzling cake recipe with a sweet, chocolaty, fluffy, moist, soft and light texture. The cake is the right choice if you want to eat a light dessert during the day or at brunch or maybe with tea. You can bake this scrumptious cake for any occasion or a party and this is the perfect easy to make, a chocolate cake recipe for your busy routine. The ingredients of this recipe are simple, you can find them in your kitchen cupboard or refrigerator. This Japanese cotton chocolate sponge cake is enough for six to eight family members.
My grandma used to like this chocolate cake and whenever we ask her about the chocolate cake selection, undoubtedly this is always her first choice. This is the secret recipe that I always use to bribe my grandma to convince her every time. The cake is so flavorful that everyone will love your cooking and baking. You must try this recipe at home and see this for yourself.
The delectable cake can be served in a light-colored plate which will beautify its dark chocolate color. The soft and fluffy slices of this Japanese cotton chocolate sponge cake can be served with chocolate syrup, drizzled with ganache, nuts or maybe some whipped cream. This is the best chocolate cake recipe that you can try. The preparation time of the cake is 1 hour and 30 minutes including cooling time.
Ingredients of Japanese Cotton Chocolate Sponge Cake
3 large egg yolks
2 tablespoons granulated sugar
4 tablespoon corn oil or any other vegetable oil
4 tablespoon milk
6 tablespoons sieved cake flour
2 tablespoons sieved cocoa powder
3 egg whites
1/4 teaspoon cream of tartar (another option is vinegar)
4 tablespoons of granulated sugar
How to Make Japanese Cotton Chocolate Sponge Cake
Preheat the oven at 150˚ C for 10-15 minutes. Take a large bowl, decant egg yolks, granulated sugar, vegetable oil, milk, and cornflour in it and whisk it until the lumps are removed. Then add the sieved cocoa powder in it.
Take another bowl and whisk the 3 egg whites until it becomes foamy. Add cream of tartar in the egg whites during the process of whisking. Then add sugar and whisk it for 3-5 minutes until it becomes thick and stiff.
For baking, use a baking pan for a cold water bath and bake this cake mixture for 60 minutes (200˚ C / 10 minutes, 150˚ C / 20 minutes or 130˚ C / 20 minutes).
In at preheated oven at 150˚ C bake the cake for 45 minutes.
After baking leave the cake in the oven until the temperature reaches to 50˚ C to avoid collapsing of cake. Make sure to properly cool the cake at room temperature.
Helpful Tips:
The cake must not be removed from baking pan at high temperature to avoid cracks and shrinking. Baking at low temperatures will help the cake to rise much higher and to bake evenly.
Take the notes of your oven and its temperature rise up before baking. Check the temperature of your oven before baking to bake it properly.
Check the cake by poking it with a toothpick that if it comes out clean, then it's ready.
For the folding of egg whites for cake, do not use an electric mixer or stirring. This is the most important step to perfectly raising the cake.
Cover the cake top with aluminum foil to avoid browning at the top, it will help the cake to bake and rise perfectly.
To see the original recipe that inspired this one, check out the recipe for Japanese Cotton Chocolate Sponge Cake found at How to Make yummy.