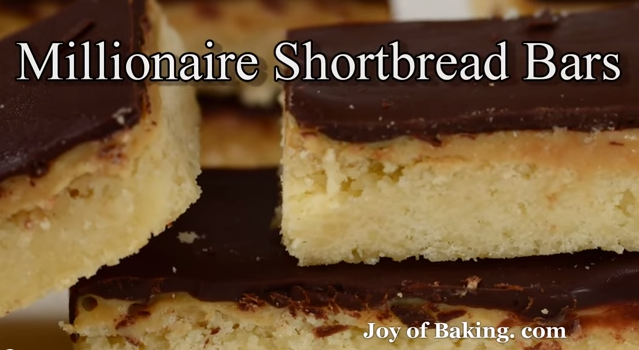 A great tea time favourite is the millionaires shortbread because of the combination of the crisp short bread biscuit then the creamy caramel  center topped with chocolate yummy .. a great mid morning biscuit too with that cuppa .. a really favourite with all the family .. take a look how to make it from the video tutorial x
Here is an excerpt from Stephanie Jaworski of Joy of baking on what she say about these shortbreads
When you bite into a Millionaire Shortbread Bar it's like enjoying both a cookie and a candy bar at the same time. It has three delicious layers; a buttery shortbread, creamy caramel, and a shiny layer of dark chocolate. To me, it tastes remarkably like a Twix candy bar. The caramel seems to take center stage, which is probably why these bars are also called Caramel Squares, Caramel Shortbreads, and a Caramel Slice.
Click the link below to see how to make these shortbreads
Originally posted 2015-01-02 09:20:38.