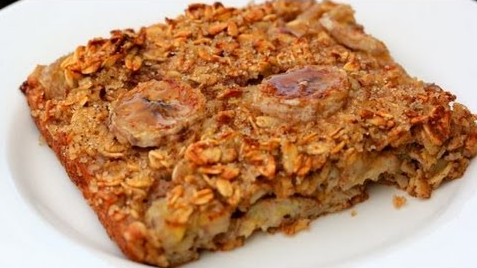 Baked banana oatmeal is the simple, easy to make, and healthy dish with a perfect, sweet, crunchy and soft texture of the banana. This magnificent dish is specially designed for growing age children, adults and even elders. The oatmeal taste infused with banana really compliments each other. It is especially good for your bones and oatmeal is healthy, rich with antioxidants, has low cholesterol levels, and helps to maintain your body's sugar level. This is the complete package of healthy nutrients that you can eat for your breakfast, brunch, at dinner or as you like. The baked banana oatmeal ingredients are simple; you can find them in your kitchen cupboard. This recipe is perfect for four to six members'servings.
This reminds me of my mom and my old days. I used to dislike oatmeal and my mother always tried to make sure that I must have a healthy diet and must take every possible nutrient I can. Actually, my mother is a great cook as well as a food nutritionist and it inspires me a lot. One day she came up with this scrumptious and delectable snack to make me eat this healthiest food as a mother and as a doctor's perspective. After that, I started to like the oatmeal with baked banana. You must try this at home for your kids and family.
This is a simple dish you can serve it in a plain dish and garnishing it with nuts, chocolate syrup or whipped cream will make it more scrumptious, palatable and dazzling. The baked banana oatmeal can be prepared in 30 minutes and you can cool it down or eat it hot according to your will.
Ingredients for Baked Banana Oatmeal
2 cups dry oats (rolled / quick)
1 teaspoon baking powder
A pinch of salt
1/4 teaspoon cinnamon powder
2-4 bananas
2 egg whites
1.5 cups milk
1 teaspoon Vanilla essence
1 tablespoon brown sugar
How to Make Baked Banana Oatmeal 
The first step is to preheat oven at 375 F for 10-15 minutes. To make the baked banana oatmeal, take a large bowl and put oatmeal, baking powder, a pinch of salt, cinnamon powder and mix it well. Take 2 bananas in another bowl and mash it with a fork. Then add egg whites, milk, vanilla essence and stir this mixture well. Now pour the banana mixture into dry oatmeal mixture and stir it.
Take a square baking pan of 8 x 8 inches and grease it with coconut or any other type of oil to avoid sticking of the mixture. Spread the round slices of banana at the base of this pan and pour the mixture into it. Bake this in a pre-heated oven for 20-25 minutes until it becomes golden brown. Sprinkle brown sugar on the top of the baked banana oatmeal after baking. After this step, let it cool and slice it into square pieces.
Enjoy this delicious and healthy dish!
To see the original recipe that inspired this one, check out the recipe for Baked Banana Oatmeal found at Clean & Delicious