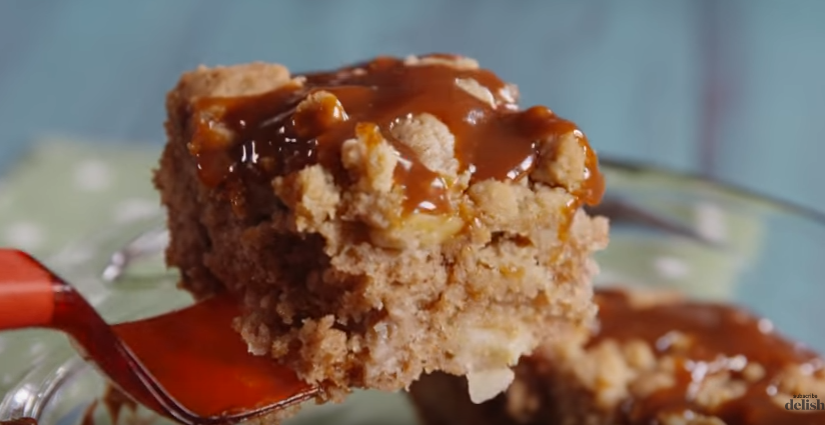 Coffee cake is popular so when I came across this recipe for a caramel apple coffee cake I just had to share it with you as it does look so delicious good and a cake recipe that would be great to make for Thanksgiving .. I love it
This great recipe has been brought to you by delish  on YouTube, thanks for sharing this recipe with us
Here below is the recipe and the video tutorial both from the YouTube channel
DIRECTIONS
1. Preheat oven to 350 degrees F. Butter and flour an 8″ x 8" baking dish.
2. Make Batter: In a large bowl, combine 8 tablespoons of butter and sugar. Using a hand mixer, whip until light and fluffy. Add the egg and mix until smooth. Then add vanilla and sour cream and mix until evenly incorporated. Add 1 cup flour, baking soda, baking powder, cinnamon, and salt and mix until just combined. Fold in chopped apples.
3. Make Streusel Topping: In a medium bowl, combine remaining 4 tablespoons of butter with brown sugar and remaining 1/2 cup flour. Add a pinch of salt, if desired. Stir with a fork, or use your hands, to create large clumps.
4. Pour the batter into the prepared baking pan then top with streusel. Bake until the top is golden brown and a toothpick inserted into the middle of the cake comes out clean, 35 to 40 minutes. Drizzle with caramel sauce then let cool for about 10 minutes.
5. Serve warm or at room temperature.
INGREDIENTS
12 tbsp. butter, softened (divided); plus more for greasing pan
1/2 c. granulated sugar
1 large egg
1 tsp. vanilla
1/2 c. sour cream
1 1/2 c. flour (divided)
1/2 tsp. baking soda
1/4 tsp. kosher salt
1/2 tsp. baking powder
1/2 tsp. ground cinnamon
1/2 c. packed light brown sugar
1 c. peeled, cored and chopped apples (about 1/2″ pieces)
1/3 c. caramel sauce, warmed